Welcome to the 2022 Pacific Marine Expo, the annual event for the West Coast and Alaskan commercial maritime industry, and we are so happy to have you. I'm sure you've arrived here ready to see aisles and aisles of exhibiting companies offering the products and innovations that will help you do your job better. On our floor, you will find everything from marine engines, propulsion, electronics, safety gear, and the latest products hitting the market but there's so much more to Expo. Here you will also experience the latest education from people on the front lines defending our oceans and livelihoods and most importantly you will see great friends and colleagues old and new and have the opportunity to catch up, commiserate and plan for the future.
This year's Expo will showcase 400 companies displaying thousands of products. Attendees will come out with new ideas to improve profitability, durability, and sustainability. After visiting the show floor, you will quickly realize Pacific Marine Expo has something for everyone and every vessel.
Beyond the show floor, we invite you to take in some of our special events like the thrilling Fisherman of the Year Contest (this year compete to win a Yeti cooler full of swag and a cash prize; stop by the NF Member's Box to sign up) and of course our famous daily happy hours, this year taking place in multiple locations. I also encourage you to take the time to attend one of our many hard-hitting education sessions that will cover a variety of topics from Vessel Safety to Offshore Wind Development to the catastrophic closures in the North Pacific.
Education Program Expo Mobile App Exhibitor List 2022 Expo Registration
We are immensely proud of this year's show, and we are confident you will feel the energy and enthusiasm of this remarkable industry coming together. For 55 years, Pacific Marine Expo has brought thousands of maritime and fishing industry leaders to Seattle. (This year's Expo will bring visitors from 40 states and 17 countries to Seattle). The Expo is the only trade event dedicated exclusively to the pacific maritime industry and is the largest and longest-running commercial marine tradeshow on the West Coast.
We are thrilled you are a part of this year's event and look forward to seeing you over the next three days.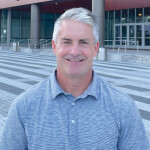 Bob Callahan
Publisher, Group Vice President/Product Director
Pacific Marine Expo & National Fisherman
[email protected]