Fisheries technologies are indicative of a fisherman's worldview, often developed through generations but sometimes just a lifetime.
Larch Hanson has been harvesting the same seaweed beds in Steuben on the coast of Maine for over forty years. He's grown his business more than tenfold since I met him in the late 1980s – with a big boost from when it was discovered that fucoidan in kelp acts as a decoy molecule in the gut, binding Covid-19. But his technology has barely budged, instead becoming more refined in its simplicity.
The latest addition to his little flotilla – consisting of a wooden outboard skiff and a few little harvesting barges that he tows to the beds – is a 16'x4' scow to hold seaweed. "I can put a ton of rockweed in it," says Hanson. "I asked some of the harvesters for Acadia Sea Plants [a Canadian rockweed company] how much they get paid per ton. They get $46 dollars, and they have to lift it twice. It takes me ten hours to harvest and process a ton of rockweed, and I get $2,000 for it – and it all happens within a few hundred yards of the mouth of my cove."
With that kind of return, many entrepreneurs would move toward mechanization and high-tech efficiency, but Hanson is heading the other direction.
"I've developed an old man's economy of motion," says the 77-year-old Hanson – voicing what anyone who has spent years on deck can identify with. With his new harvest barge, what he calls a scowbox, Hanson is bringing that economy to his boats.
"My 16-foot garvey-shaped container boat, with just ½" marine plywood on the bottom, protected by FRP fiber-reinforced plastic and replaceable oak rub strips, lasted for 40 years," says Hanson. "What failed first was a sealed compartment full of foam flotation that I never aired out during the off-season. Dry rot is never dry."
On the scowbox Hanson has further refined his design. "It has a double thickness half-inch marine plywood bottom given one coat of the devil's mix – a gallon of raw linseed oil mixed with a quart of turpentine and a quart of pine tar," he says. "And the usual FRP and oak rub strips." The sides and top are 1-inch pine, caulked with 5200, and an FRP lid to go over the box.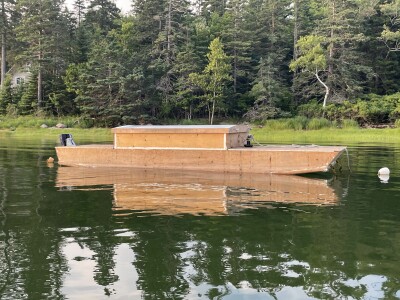 Hanson added an outboard motor mount on one end in case he wants to use the vessel under its own power. Having learned his lesson, he built the foam-filled flotation chambers at both ends with marine plywood decks that can be unscrewed to air out when the vessel is hauled out in autumn.
"I found a tubular foam gasket material that's used for weatherization projects to seal the foam decks when they're screwed down, and that seems good enough since it's above the waterline," Hanson says.
While Maine's seaweed fishery, if it can be called that, remains open access, Hanson would like to see more young people getting into the business, working the beds sustainably, and making good money rather than acting as roving seaweed harvesters for two cents a pound.
"The scow I've built cost $1,500, can be built by anyone with basic carpentry skills, and paid for itself on the first harvest," he says. But he notes that building a successful seaweed business is challenging: "It takes time to develop solid relationships of trust."