Over the last few decades local fish has become harder to source for coastal communities, but covid-19 has changed that. Local food systems, including fisheries, have been thriving in the lockdowns, and educators are starting to notice. Small-scale fishermen and local distributors are meeting with students from high schools and colleges all around the coasts.
In August and September, one such group from Sterling College in northern Vermont visited Downeast Maine to learn about local fisheries, seaweed gathering, and aquaculture.
Professor Carol Dickson, in collaboration with Smithereen Farm in Pembroke, Maine, brought 10 students to the Cobscook Bay region, where they visited a lobster pound in Lubec, went mackerel fishing with me, and met young fishermen Elijah Brice and Asher Molyneaux for an in-depth discussion of what promise the fishing industry holds for future generations.
The students used the visit to inform a wide range of study projects, from a seafood menu, to a children's story, to deeper dives into the socioeconomic impacts of fisheries and aquaculture policy.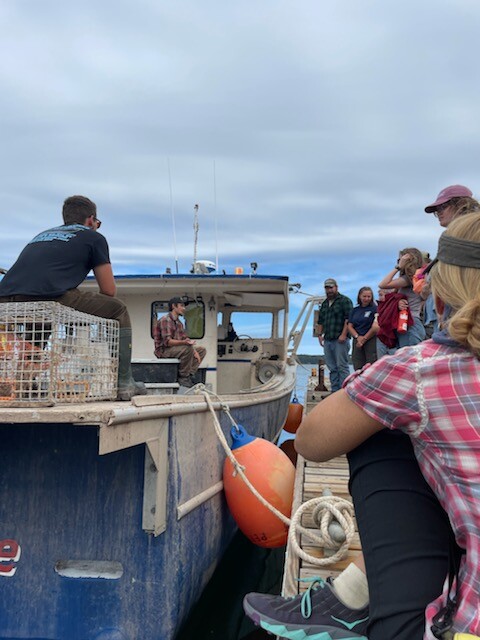 According to Dickson, the objective of Sterling's Coastal Food Systems Seminar was to broaden her students' perspectives about the sea as part of local food systems. "We're in a landlocked state," says Dickson. "So, most of our focus has been on agriculture, but we realized that fisheries are also part of this, so we came to learn."
In addition to fishermen, the students heard from fish farmers. They visited with small-scale shellfish farmer Adam Campbell, who has a radical local approach to farming and selling oysters, to corporate fish farmers, who tried to sell the students the idea that multinational fish farms were saving the world.
Among the most informative presenters the students met was Treaty Law Professor Henry Bear of the Maliseet tribe in what is now Maine. Bear explained how Native fishing rights are rights that were reserved by the tribes in treaties going back to the 18th century. Bear talked to the students about the original coastal food system, and how he and many others continue to practice and defend it.
Getting on the ground, seeing and hearing from the people who participate in coastal seafood systems, appeared to have been an eye opener for the Sterling students. They returned home having caught and cooked fish, some for the first time, and with an appreciation of the complexity of the seafood world.
They are not alone. Professor Bill Gilly at Stanford University in California has been running similar seminars as part of his holistic biology class, and numerous organizations in every coastal state are connecting high school students to local fisheries. These young people may well form the backbone of the small scale seafood systems that have proven resilient in hard times.