The owner and crew of a longtime Maine herring seine vessel face federal charges alleging they falsified landing reports and sold millions of pounds of unreported Atlantic herring.
U.S. attorney Darcie N. McElwee in Portland, Maine, said Glenn Robbins, 75, of Eliot, owner of the seiner Western Sea; Ethan Chase, 44, of Portsmouth, N.H.; Neil Herrick, 46, of Rockland; Andrew Banow, 35, of Rockport; Stephen Little, 56, of Warren; Jason Parent, 49, of Owls Head; and vessel ownership corporation Western Sea, Inc., were named in a 35-count indictment returned by a grand jury Jan. 28.
The indictments lists 35 charges of conspiracy, mail fraud, and obstruction of justice "in connection with a multi-year scheme to sell unreported Atlantic herring and falsify fishing records," according to a statement from the U.S. attorney's office.
Prosecutors allege that Robbins working with his captains and crews sold more than 2.6 million pounds of Atlantic herring from about 80 fishing trips between June 2016 and September 2019 that were not reported to NMFS.
Crew members were paid directly by fish dealers and lobster vessel operators for the unreported herring, the indictment alleges. The Portland Press Herald reported the indictment listed total value of those sales at over $460,000.
"The type of unscrupulous and unlawful fishing alleged in the Indictment returned by the grand jury directly affects the economic benefit of law-abiding fishermen and fishing communities," said James Landon, director of the NMFS Office of Law Enforcement, in a statement announcing the indictment. "We will continue to help bring to justice those who are proven to have violated U.S. fishing laws and regulations, to help ensure the sustainability of our living marine resources while also maximizing economic benefit."
Edward MacColl, a Portland lawyer representing Robbins, Chase and Western Sea Inc. said the fishermen cooperated fully with OLE investigators and believed they were in compliance.
"The Western Sea worked with the government to facilitate its investigation, including by providing boxes of records to copy and access to the company's computer," MacColl told National Fisherman via email. "The firm intended to and believes it did comply with the government's detailed reporting requirements.
"At one point, government counsel agreed to meet with me and explain the government's concerns; but the government changed its mind, refused to meet and apparently decided to issue an indictment and a press release instead."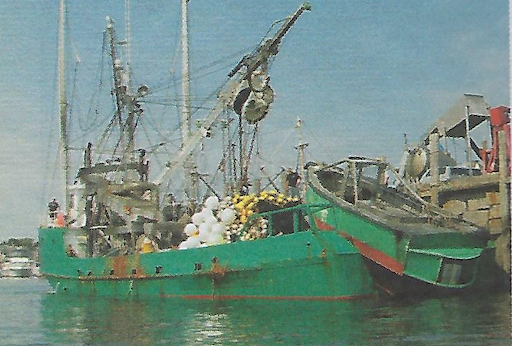 Built in 1974, the Rockland, Maine-based 94-foot Western Sea is one of the most capable Gulf of Maine seine vessels and a dependable source of bait for the lobster fleet ('The Baiting Game,' National Fisherman November 2007).
In October 2007 the NMFS Office of Law Enforcement accused Robbins and Danny Fill, captain of the Western Sea at the time, of failing to report 15 million pounds of herring landed from June 1 to late August of that year. The agency sought a combined $510,000 fine – $255,000 from each fisherman.
Fill said he was late reporting his catch because he had lost a phone number for calling in landing reports, but had been updating his daily logbook and accurately recording trips.
That case became one of dozens that drew complaints about OLE after the agency's stormy relationship with the New England fishing industry culminated in a series of cases it brought against the Gloucester (Mass.) Seafood Display Auction ('U.S. targets Gloucester auction,' National Fisherman May 2009).
An uproar from Gloucester and other ports led Massachusetts state lawmakers to call on Congress to investigate enforcement practices. The U.S. Department of Commerce appointed a special master, Charles B. Swartwood III, to review fishermen's complaints.
In his April 2012 report, Swartwood summarized his findings after reviewing about 72 cases. One was the Western Sea.
Swartwood related how OLE agents explained that late reporting of landings can be as damaging to a fishery as non-reporting. While reports had not been called in that summer, Fill had maintained the daily logbook and shared those numbers with the agents, Swartwood wrote.
With a correct phone number, Fill began calling in during August 2007 to report the season's landings so far and subsequent trips.
"In short, Mr. Fill actively tried to comply with the requirements after he was notified of the late filings," Swartwood wrote. Nevertheless, NMFS officials called for a "severe penalty assessment," he noted.
The agency finally offered a $51,000 settlement, and by the time of Swartwood's review Fill had paid $26,000. Swartwood recommended that amount should suffice.
"A $510,000 penalty assessment is wholly inconsistent with fundamental fairness and common sense," Swartwood wrote of the original violation. "This case should have been focused more on compliance rather than punishment."
Swartwood reommended the Department of Commerce "accept his prior payment of $26,000 in full satisfaction of the settlement of this case."