Around 40 percent of the surviving North Atlantic right whale population appeared to be swimming and feeding near Cape Cod, Mass., in the early days of May, prompting federal and state authorities to extend vessel speed limits and lobster trap gear restrictions.
An autonomous Slocum glider vehicle operated by the Woods Hole Oceanographic Institute detected the highly endangered right whales north of Cape Cod May 1, according to NMFS officials who extended the effective date of a "slow zone" for vessel traffic through May 18. That voluntary precaution calls for mariners to keep vessel speeds at 10 knots of less to reduce the chances of injuring the mammals in collisions.
Meanwhile, the Massachusetts Division of Marine Fisheries and Provincetown, Mass.-based Center for Coastal Studies conducted air surveillance flights, including one April 28 that counted 86 right whales in the waters of northern Cape Cod Bay, southern Massachusetts Bay, and Stellwagen Bank.
During flights April 27-28, observers documented at least 160 right whales in Cape Cod Bay and along the South Shore, "all of which were skim feeding at the surface or just below the surface. This intense feeding behavior makes them somewhat oblivious to their surroundings, often difficult to see and highly susceptible to vessel collision," according to a bulletin from state fisheries officials.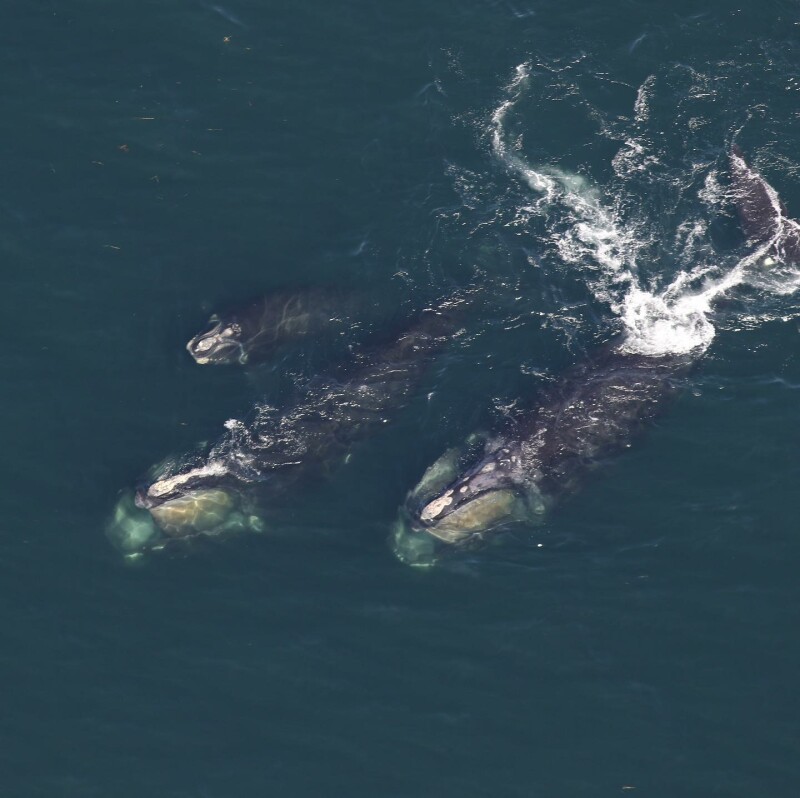 "Ten right whale mother/calf pairs have also been documented in the area. All mariners are advised to follow the speed limit and use extreme caution when transiting the area" the statement added. "Additionally, it is unlawful, under state and federal law, to approach a right whale within 500 yards."
The most recent updates from U.S. and Canadian cetacean experts estimate the total right whale population off eastern North America at 366 animals – although monitoring reported a modest baby boom during the 2020-2021 calving season in waters off the Southeast states.
"Since the start of the 2021 North Atlantic right whale calving season, researchers have identified 17 live calves," NMFS reported in mid-March. "Only 22 births were observed during the previous four calving seasons combined, which is less than one-third the previous average annual birth rate for right whales."
The federal agency regularly calls on large vessels 65 feet and over to hold to the 10-knot maximum speed when right whales are in demarcated seasonal and dynamic management areas offshore. Massachusetts officials imposed that speed limit on vessels under 65 feet in Cape Cod Bay through May 15, and extended trap fishing gear restrictions in the bay and other coastal waters by two weeks to that date.
"Additional surveillance flights are anticipated to occur over the next several days," according to an April 30 statement from the Division of Marine Fisheries. "DMF will reevaluate the status of this closure based on the presence or absence of whales. Should observational data demonstrate right whales have migrated out of Massachusetts waters, DMF may lift the trap gear closure prior to May 15."
The small vessel speed limit order will likewise be open to reconsideration, the agency said.