Maine's lobster boat racing season ended the weekend of Aug. 19 and 20, with 41 boats racing at Long Island on Saturday and 41 the next day at Portland's MS Harborfest race. Total boats for the 2023 races were 567; that's six fewer than last year. Generally, there's a core group of 20 to 25 boats that go to multiple races; otherwise it's lobstermen racing at their homeport or close to it.
Lobstermen coming to the weekend races from harbors further to the East did not have good traveling conditions on Friday night and Saturday morning.
"We were pounding all the way," says Jon Johansen, president of Maine Lobster Boat Racing, who made the trip in his own boat from Searsport. "It was big waves, lots of wind. Looking to the side I had to look up at the top of the wave." But everyone made it; for a few it was a 50- to 60-mile trip.
The turbulence held on to about the end of Saturday's skiff races. "The skiffs had a ride and a half," noted Johansen. "Some were airborne but none flipped over." Then the wind dropped and conditions improved. 100 spectator boats were along the sides of Long Island's mile-long race course. The first race, (Class A, Skiffs 16 feet and under, Outboards up to 30 hp, Operators up to 18 years old) was won by Nuggett (Holland 14 with a 30 h.p. Honda) at 22.8 mph. Nuggett was skippered by J.P. Thurston.
The fastest race was the Diesel Free-For-All with Jeremy Beal's Maria's Nightmare II (Wayne Beal 32, 1,000-hp Isotta) hit 57.1, beating Jeff Eaton's La Bella Vita (Northern Bay 38, 815 FPT) in second and Sean Clemon's Mean Kathleen (Wayne Beal 36, 700-hp Scania) in third. That was also the finishing order for the Fastest Lobster Boat race.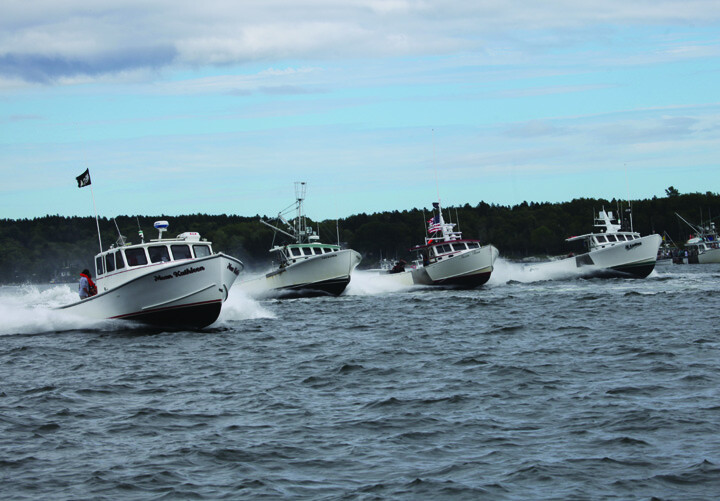 The next day in Portland about 60 spectator boats were lined up along the course when the first race kicked off. That was Class B, inboards, outboards or outdrives, 31 to 90 hp, under 24 feet. Eight boats were in that race with Andy Correa's unnamed Boston Whaler leading the way and crossing the finish line at 45.3 mph.
A good race was Diesel Class E 336 to 435 hp, 24 to 32 feet between Randy Durkee's Audrey May and Trisha Sawyer's Wilbur, both boats are Holland 32s with 425 Cummins. The third boat was Jake Dugas Guilty Pleasure (Mitchell Cove 32, 380 Cummins). Audrey May and Wilbur were close coming down the course before Audrey May pulled away, winning by nearly two boat lengths at 34.3 mph, with Wilbur at 32 mph. Guilty Pleasure with only a 380 Cummins couldn't keep up and finished in third place at 29 mph.
Andy Correa's Boston Whaler the fastest time until the last race, Fastest Lobster Boat, which was won by Jeremy Beal's Maria's Nightmare II at 58.5 mph followed by Jeff Eaton's La Bella Vita, Andy Johnson's Whistlin' Dixie and Jim Koehling's Brown Eyed Girl
Maria's Nightmare has dominated the 2023 races. However, next year Maria's Nightmare II could be facing stiff completion because "Cameron Crawford has been promising he'll be out next year," says Johansen. And with Crawford comes Wild, Wild West, a West 28 with a 1,050-hp Isotta that has hit over 60 mph in past years. In addition, Tommy Clemons is building a new Morgan Bay 43 with a 1,700-hp MAN. "That could be exciting," says Johansen, already thinking about the 2024 races.
One thing about the Portland lobster boat races is just because lobster boats stopped racing on Sunday, doesn't mean the racing day is over.The lobster boat races are followed by tugboat races. This year there were four McAllister Towing tugs that divided up and raced each other twice.