Tim Rider turned a fish dragger into a jig and scallop boat — now he just needs access to the fish
When Tim Rider, owner of New England Fishmongers, bought a 47-foot dragger and decided to turn it into a jig boat for groundfish and a winter/spring scalloper, he had a permit to get to groundfish in otherwise restricted areas.
Built by LeBlanc Brothers in Wedgeport, Nova Scotia, and launched as the Richard J., the Finlander II has now been through a massive overhaul that increased the vessel's efficiency. Only the exempted fishing permit program Rider was relying on has since been scrapped. He says he needs a regulatory environment supportive of a business model he believes is in the vanguard of sustainability.
"We bought the boat in 2017 and went fish dragging with it," says Rider. "Then we took all the dragging gear off and put the jigging machines on and started scalloping. The boat needed a lot, and we did really well on the groundfish last fall and on the scallops this winter, so we said, 'OK, this is the year.'"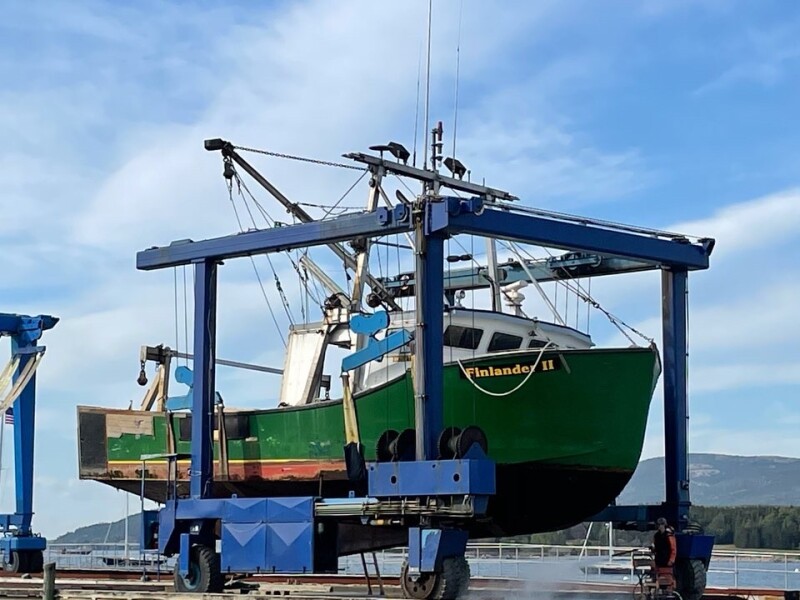 That was back in 2021. On May 18 that year, the dragger arrived in Southwest Harbor, Maine, battered from years of fishing and full of remnants and problems from incomplete gear shifts. For Rider and his crew, it was time to turn the boat into an efficient machine for their needs.
Starting from the keel, the plan included hull repair, propeller repair, engine rebuild, hydraulics overhaul, and a new electronics system. In addition, Rider wanted to clean up the deck layout and replace the fiberglass over plywood wheelhouse that had extensive rot, as well as re-rig the mast and boom.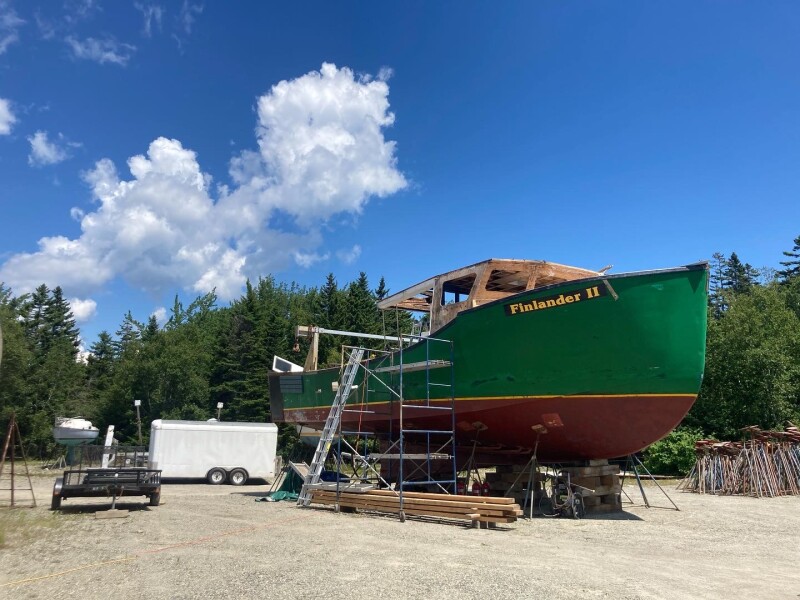 "We're shooting for an August 1st relaunch," he said that day in May. But a rainy summer and pandemic supply chain issues would wreak havoc on Rider's timeline.
Rider's business model is heavy on the retail side, and he left his scalloping captain, Asher Molyneaux (this writer's son, in full disclosure) to oversee the project while he went back to Kittery, Maine, to put together a fish market and restaurant that would hopefully keep the money coming in. Juggling many balls, Rider would get back to Southwest Harbor for a few days every few weeks.
At age 19, it was a big bite for Molyneaux, but the first part was relatively easy: the tear down. With the 20-year-old Novi-built boat, a LeBlanc 47, blocked up in the Hinckley yard, Molyneaux and various helpers started with taking off the rudder and propeller, which they shipped off to AccuTech Marine Propeller in Dover, N.H.
"They cleaned it up and cut it down," says Molyneaux. "They cut an inch off, so it went from 51 inches, now it's a 50 x 36." That was one of the simpler operations in rehabbing an old boat that had been tinkered with for years.
Moving forward, the team left the 4-inch stainless shaft in place, as well the Twin Disc 3.5:1 gear. "We sent the engine, a Cat 3406E, to Dennis Welding and Marine on Beals Island [Maine]," says Molyneaux. "They totally rebuilt it, new sleeves and all that."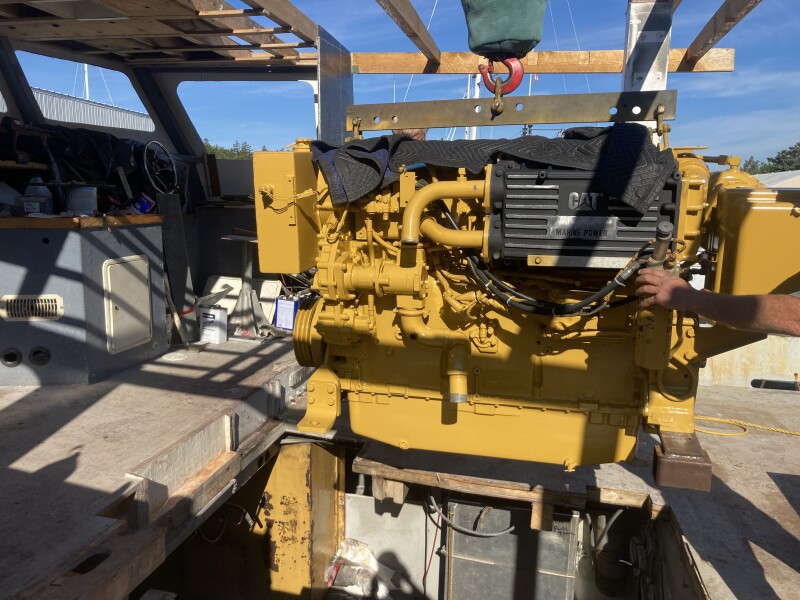 "I made a couple trips down there," says Scott Smorch, a mechanic at Dennis Welding. "Got her all unhooked and slid her back from under the bulkhead, then it just took a morning to get her out." With the engine in the shop, Smorch started the rebuild. "It was a full rebuild. We put a remanufactured head on it, pistons, piston packs, liners, bearings, oil coolers. Everything. The block was completely torn down and magnafluxed, looking for cracks along with the crank and everything," says Smorch.
As a Cat dealer, Dennis Welding was able to get all the part needed, and the project should have been finished quickly.
"The rebuild only took two or three weeks," says Smorch. "The problem we ran into was the machine shop. Their crank grinding machine was down, and they were waiting for parts." The supply chain issues stemming from the global pandemic led to a lengthy delay in getting the crank back in the engine, just one of the problems that lengthened the Finlander II's stay in the yard.
With the engine in the shop, Molyneaux and Rider started to take apart rigging and the hydraulics.
"It was a direct-drive system that was supposed to pumping all the time," says Molyneaux of the hydraulics. "But somewhere along the way, some hoses got changed so the hydraulic fluid wasn't able to get to the keel coolers." Molyneaux took five Pullmaster winches off the boom and wheelhouse, along with several control blocks. "It was a great system, but over-engineered for what we're doing."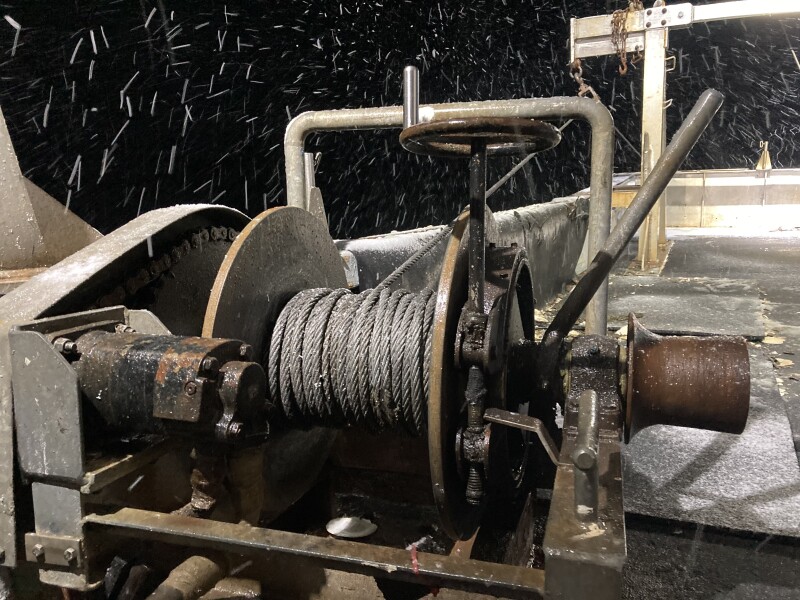 "We had to reverse engineer it," says Chris Baldwin of PCR Industrial in Bangor, Maine. Baldwin made numerous trips to the boat as well as phone consultations to help Molyneaux understand what the boat had, and how to reconfigure it into a system that worked for scalloping and jig fishing.
The Finlander II had extensive rot in the wheelhouse, a haphazard electronics system and layout, and a rat's nest of wiring. Rider decided to tear the entire thing off and create a smoother-functioning wheelhouse.
In between rainy days, Molyneaux worked with Larry Young, a fiberglass mechanic out of Jonesport, Maine. Together with other helpers, they cut away the old cabin top and used the pieces for patterns for a Coosa board replacement, a lightweight synthetic that would not rot.
"We coated that with fiberglass inside and out," says Molyneaux. "Then put in all new windows, except for one."
In spite of delays, the pieces came together.
"Looking back, we should have put the boat indoors," says Tim Rider. "But who knew?"
First, the Cat came back.
"We got the engine back in on September 1st," says Molyneaux. "We've got all new wiring, and switches. Looks great, everything labeled, so you know what it is. Robert Kramp of Kramp Electronics rewired the entire boat from the batteries up, and set up all the electronics," says Molyneaux.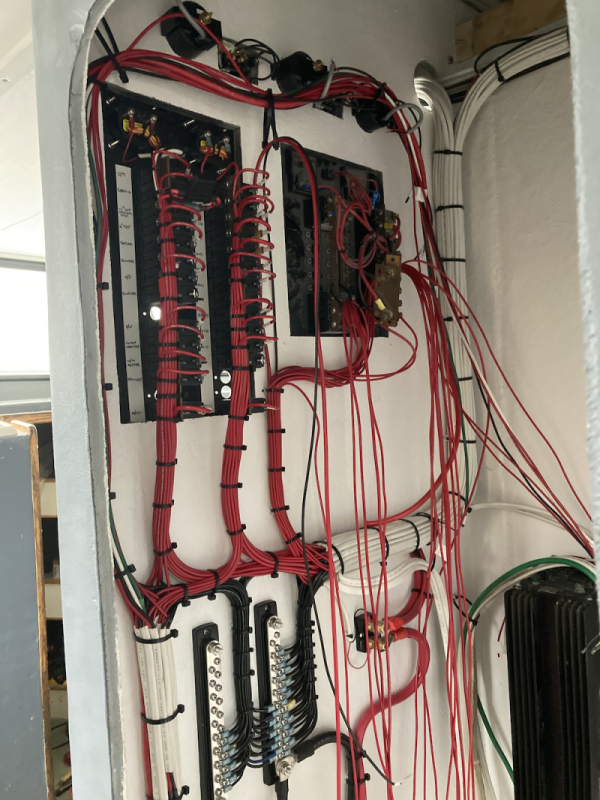 The electronics package includes some old, some new.
"What's new is the multifunction Furuno display, the Navnet TZT12F, that gives current, tide, water temp, and can show as a plotter, bottom machine, and radar. We've had a TimeZero program on an Acer computer connected to a GPS," says the 19-year-old skipper. "I just didn't know how to use it. I learned how to look at the options menu and found the 3D mode, and also depth shading."
Other new items include a Furuno 911 series autopilot and Furuno radar.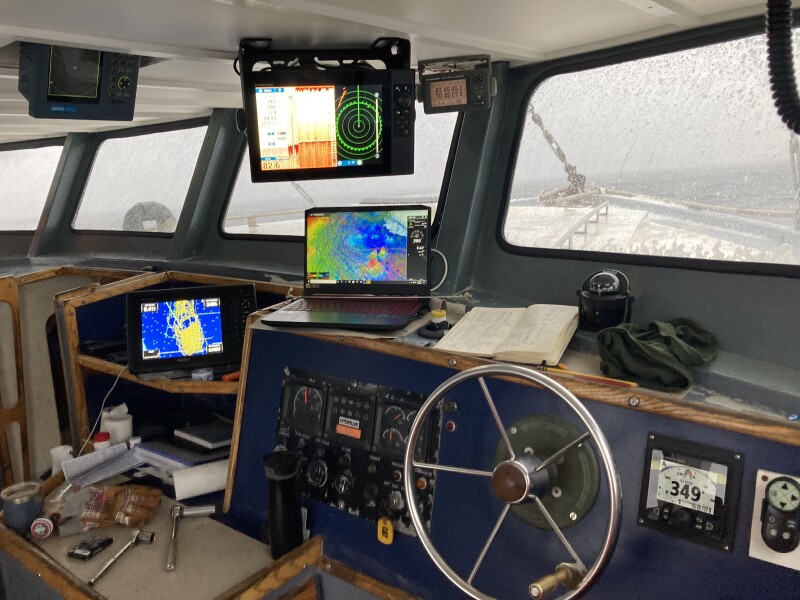 "Besides that, we have the old stuff, a Garmin 1040XS plotter that has a lot of Tim's marks in it, a Furuno GP32 GPS, and an older Koden radar. We've got two VHFs, an Icom and a Standard Horizon."
By late October, Molyneaux was going flat out with whatever help he could find to finish the boat and get back fishing.
"We put on white oak sheathing to protect the hull from the towing wire," he says. "We filled in all the gouges and holes with hull and deck putty and then painted her with this stuff," he says, holding up a quart of Epifanes mono-urethane, high gloss yacht paint. "Eighty dollars a quart."
After clearing away modifications the previous owner had made to the deck layout — stations and various apparatus for fish handling — the New England Fishmongers team put down a new deck of Tuff Coat, a rubber-like material that gets painted on.
They hooked up the old winch, 1000 Series Eaton that gets the job done, and lifted the mast and rigging back on.
"Tim came up, and we put the stays and all that back together," says Molyneaux.
On Nov. 9, with the boat looking better than ever, Molyneaux took his mother and girlfriend aboard the Finlander II for the ride back to Portsmouth, N.H.
"The engine runs more efficiently," he says. "It was pretty gunked up in there. We're definitely going to save fuel, and it runs a lot smoother."
Unfortunately, the dense concentrations of pollock in the relatively shallow water of Fippennies Ledge are no longer accessible.
"We were fishing out there on an EFP [exempted fishing permit]," says Rider. "But they cut that program, and it hurt. We really needed those groundfish after spending money on the boat and the new shop."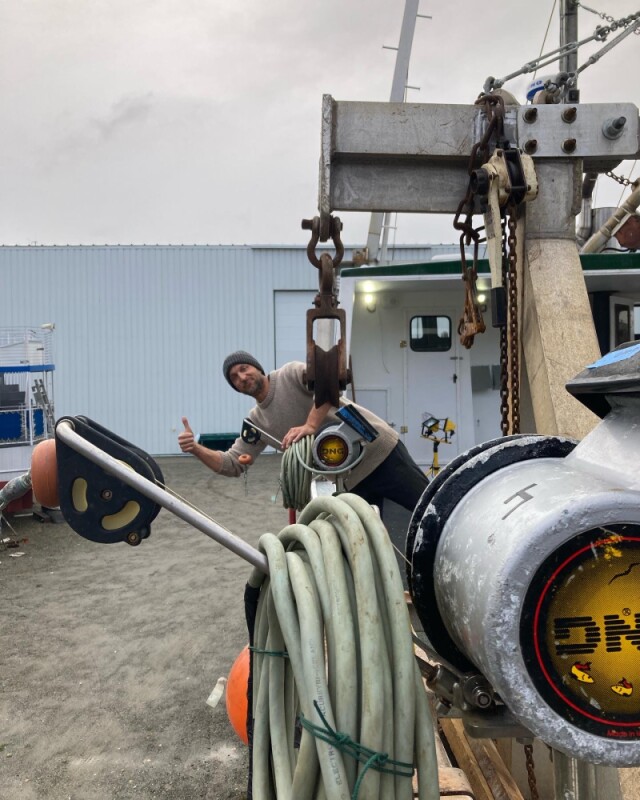 There were several hook boats in the program, and according to Allison Ferreira, public affairs officer at NOAA's office in Gloucester, Mass., the EFP granted to Rider was part of a research project to develop electronic monitoring as a tool to meet sector monitoring requirements.
"The EFP ended when electronic monitoring was approved for broader use in the fishery," says Ferreira. "Permanent access to the groundfish closed areas, would require regulatory action from the New England Fishery Management Council."
After spending most of November and early December searching for fish, Rider went back to running the larger New England Fishmongers enterprise and sent Molyneaux back after scallops. "Right now, the boat's supplying all the scallops we need," says Rider. "So that's pretty nice. We're about to start selling a scallop roll."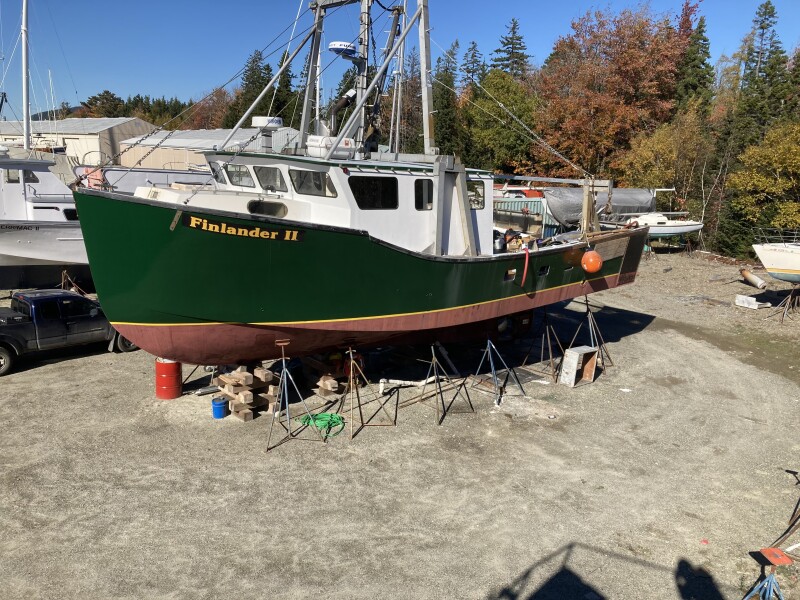 Small-scale operations like Rider's have gotten a boost during the pandemic, which strains longer supply chains. And that boost has generated investment in vessel upgrades and shoreside infrastructure. Whether the regulatory environment will be conducive to the long-term viability of sustainable business models like Rider's and others remains to be seen.