A deceptively late hurricane season roared into life as hurricane Fiona hit Nova Scotia early Saturday, knocking out power and flooding coastal communities across Atlantic Canada.
At mid-day Monday, the National Hurricane Center's updated guidance for hurricane Ian shifted the storm's likely path closer to the central Florida gulf coasts, putting the Tampa Bay region at risk of high storm surge from the storm's northeast quarter Wednesday into Thursday.
"An even greater concern is the slower forward motion that is forecast during this period, as the upper trough passes north and east of Ian and the steering currents weaken," according to the NHC 11 a.m. update. "This would likely prolong the storm surge, wind, and rainfall impacts along the affected portions of the west coast of Florida, although the roughly shore-parallel track still makes it difficult to pinpoint exactly what locations will experience the most severe impacts."
Fiona's winds gusted to 88 mph on Cape Breton Island, battered with 40-foot waves and storm surge on the northeast quadrant of the storm. Meteorologists said Fiona may have been the strongest storm recorded in Canadian history as measured by its central pressure of 931.6 millibars.
"If confirmed, that value will smash the nation's previous all-time record for central pressure in any storm, tropical or non-tropical: 940.2 mb, which was set at St. Anthony, Newfoundland, and Labrador, on January 20, 1977," reported Yale Climate Connections. "Not only would 931.6 mb be a record for Canada, it may be the lowest pressure ever observed in the eastern United States and Canada from any storm, tropical or non-tropical, north of the U.S. Gulf Coast."
Fiona's path northward started with its Sept. 18 landfall on Puerto Rico, blacking out most of the island for days just five years after the island's ordeal after hurricane Maria. A week later in the central Caribbean, the National Hurricane Center predicted Ian would develop into a category 2 hurricane by Monday morning, and be approaching Florida Wednesday.
Gov. Ron DeSantis declared a state of emergency ahead of conditions expected to bring heavy rain and wind across Florida. With western Cuba facing Ian's landfall tonight into Tuesday, preparations were hurried from the Keys northward to the urban centers around Fort Myers and Tampa Bay.
"Life-threatening storm surge is possible along much of the Florida west coast, with the highest risk from Fort Myers to the Tampa Bay region," according to the hurricane center. "Hurricane-force winds are possible in the hurricane watch area in west-central Florida beginning Wednesday morning with tropical storm conditions possible by late Tuesday. Residents in this area should ensure that they have their hurricane plan in place."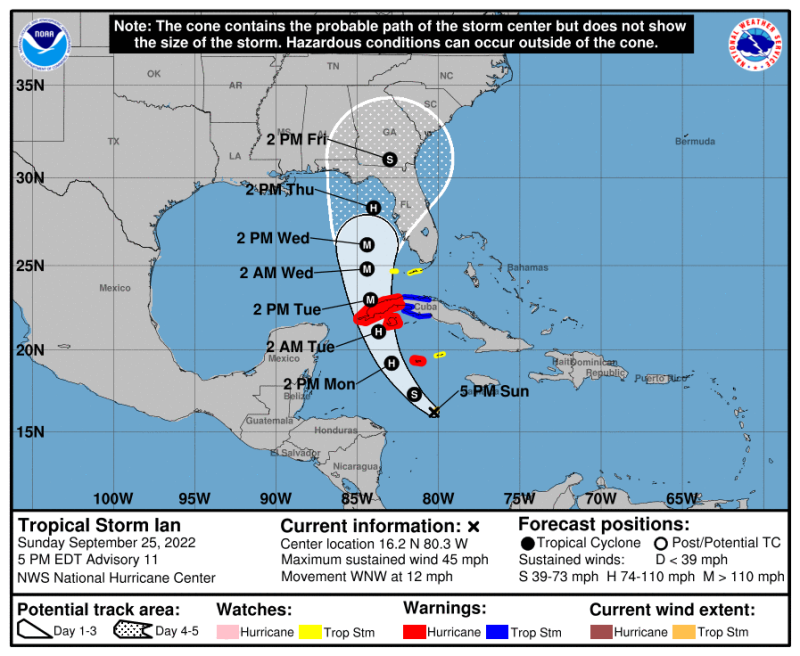 "Regardless of Ian's exact track and intensity, there is a risk of dangerous storm surge, hurricane-force winds, and heavy rainfall along the west coast of Florida and the Florida Panhandle by the middle of this week, and residents in Florida should ensure they have their hurricane plan in place.
The onset came after a fairly quiet summer. In an Aug. 3 news media briefing, experts at the National Oceanic and Atmospheric Administration said indicators still pointed to a more active 2022 Atlantic hurricane season, with another 11 to 17 tropical systems possible before the season ends Nov. 30.
Six to 10 of those could attain hurricane strength, with potentially three to five major hurricanes, said Matthew Rosencrans, NOAA's lead hurricane season outlook forecaster said then. August through October is historically the peak of the season, and indicators are still on track for "above normal" storm activity, said Rosencrans.