Mimi Stafford is a rarity among U.S. commercial fishers. A 72-year-old grandmother of three, she has been working the Gulf and Atlantic waters of the lower Florida Keys since the 1970s, running 200 lobster traps out of a 24-foot, flat-bottomed skiff she bought in 1983 — fishing mostly alone.
She is fiercely devoted to protecting and preserving her industry, but for decades has managed to deftly and successfully bridge the prickly divide between fishers and the scientific and conservation communities.
"I think it is important to look at fisheries and our environment with an eye for sustainability and diversity," Stafford said. "I'm a believer in citizen science. I'd like to leave this place thinking somehow things will be a little better. We've got to all be part of the solution."
Stafford arrived in the Keys in 1974 with husband Simon shortly after both graduated from Swansea University in Wales with degrees in marine biology and microbiology. As a child, Mimi had fished and boated on frequent vacations in the Keys, but Simon, born in England, had never visited the U.S. until after their marriage. Both gravitated toward making a living on the island chain's bountiful waters — collecting sand dollars, diving for lobster, and raking sponges.
From the 1980s, the couple each ran their own boat — "We couldn't both be the captain!" Mimi says — she in her shallow-draft T-Craft and, later, Simon and their son Dylan trapping both lobster and stone crab out of a 43-foot Torres called Key Limey.
To this day, Mimi Stafford still loves fishing alone. But unlike 40 years ago when she hauled traps by hand, she now uses an electric puller.
"Lobster is doing pretty well. I'm doing as well as ever," she said. "I'm just happy to still be doing it. I love it. I love going out by myself. I love the quiet."
The Staffords are active members of the Florida Keys Commercial Fishermen's Association — a prominent industry advocacy group — and Mimi also works together with several local marine conservation and research groups to improve fisheries habitats. Both husband and wife apply their scientific education to confront environmental and economic issues affecting the commercial fishing industry.
The couple were early supporters of the state-mandated lobster trap reduction program in the Keys, which has helped stabilize the fishery over the past two decades. They also backed FKCFA's initiative to stabilize the stone crab fishery through increased minimum sizes and a shorter harvest season.
At the same time, Stafford has worked with the non-profit conservation organization Reef Relief since its inception and still serves on its board — establishing mooring sites to protect coral reefs before the Florida Keys National Marine Sanctuary took over that program; monitoring post-larval lobster collectors for recruitment studies and conducting plankton tows to gauge conch recruitment.
Stafford has assisted scientific researchers with water quality studies to determine the impacts of harmful algal blooms such as red tide and is currently working on a sponge restoration project with Florida Sea Grant near her waterfront home. She serves on the Florida Keys National Marine Sanctuary Advisory Council and on the South Atlantic Fishery Management Council's lobster advisory board.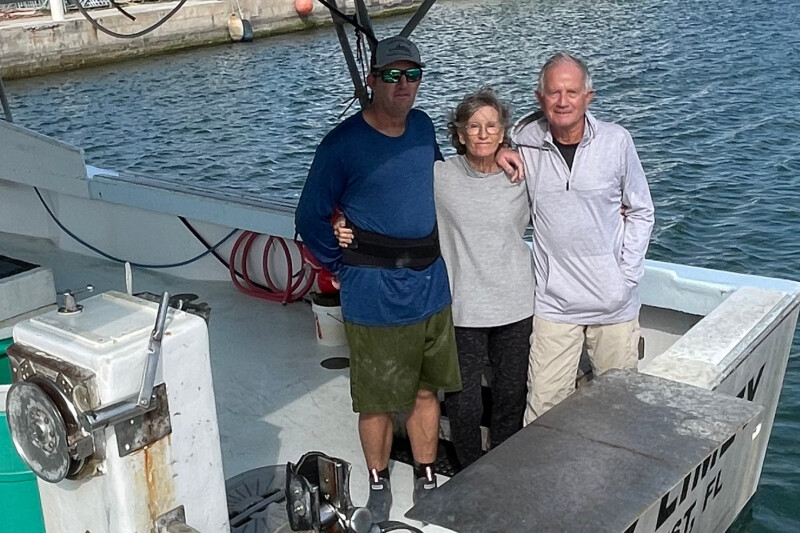 Reef Relief executive director Mill McCleary says Stafford's deep knowledge is a huge resource: "She understands the history of the Keys and water policy and how it affects the ecosystem and the commercial fishing industry. She has a strong connection to a lot of scientists doing research on sponge and lobster habitat and has scientists give presentations at our meetings on sponges, stone crabs, and lobsters."
While Stafford is very concerned about water quality issues that trickle from mainland Florida to foul Keys waters, she's equally focused on the disappearance of working waterfronts locally and throughout the U.S. In many coastal communities, developers gobble up prime commercial waterfront land, get rid of fishing docks and equipment storage, and replace that infrastructure with condos and recreational boat barns.
Indeed, the Staffords may fall victim to this trend: they could lose their dockage and trap storage space on Stock Island now that a developer has bought the marina where they work.
"We are losing the waterfront," Mimi said. "I don't think we're being pushed out by regulations. It's by gentrification."
Another issue of great concern is the longtime push by commercial divers (and some state regulators) to create a casita program for harvesting lobsters in the Keys. Casitas (a Spanish word meaning 'little houses') are submerged structures that aggregate lobsters so divers can harvest them. Unlike traps, casitas have no floating identification buoys; divers would apply for permits to place them underwater and then locate them later with GPS.
The Staffords and most other Keys commercial lobster trappers vehemently oppose the legalization of casitas and have urged the state fisheries commission not to approve it.
"Casitas are underwater, out of sight," Mimi said. "It would punish the rest of us trying to play by the rules. It creates a 'wild west' situation-- a nightmare for law enforcement."
Nevertheless, Mimi believes that land development, the tourism industry, and commercial fishing can achieve a successful balance.
"If we rely too much upon one industry, be it fishing or tourism, in the long run it is to our peril," she said. "A healthy environment and community need diversity and wise planning to survive and thrive."
Do you know someone that should be a National Fisherman Highliner?
A National Fisherman Highliner is a career commercial fisherman who is also known for giving back to the industry, locally, nationally or globally. It is no easy task, and as such it deserves recognition.
The annual tradition of hailing leaders of the commercial fishing industry began in 1975 and it's one that the National Fisherman team is opening up to our audience. Honorees will be featured in the print issue of National Fisherman magazine that honors individuals from all regions. They'll also be able to take part in a series of special events at the Pacific Marine Expo that are designed to honor and showcase Highliner winners.
Submit your nominee today!