A trio of New Jersey legislators who have promoted offshore wind energy development have called for suspending state approval of Ørsted's Ocean Wind project, alleging the company has so far "failed to deliver" on its promises of new jobs and economic development in the state.
In a Sept. 9 letter to state utility regulators, New Jersey state Senate president Steve Sweeney and Assembly members John Burzichelli and Adam Taliaferro, all Democrats with strong ties to construction and industrial union labor, cited pledges by Ørsted to hire all union labor, provide grants to spur business owned by minorities and women, and build monopile foundations in the state.
"We are starting to speak with our colleagues throughout the Northeast about their experiences with wind energy companies, including Ørsted," they state in the letter. "We are asking if these companies, including Ørsted, have made the same representations in other states and have equally failed to deliver."
The state Board of Public Utilities, which in June 2019 approved use of renewable energy credits for the Ocean Wind project, should ask regulators in other states if wind developers' economic guarantees have borne fruit yet, say the legislators, who sponsored a 2010 law requiring that wind developers provide certain economic benefits to the New Jersey economy.
"If these concerns are validated, we request that you terminate the award and immediately commence a new and more transparent process for offshore wind project applicants," they wrote. "This is of the utmost importance given the significant amount of public money being utilized to fund this project."
Ørsted officials expressed some puzzlement over the letter, arriving on the very day the state utilities board opened a second round of solicitations for another 1,200-megawatt wind energy project to follow on Ocean Wind. Those bids are due Dec. 10.
"We are surprised by what we read and do not agree with what the letter is suggesting," according to a statement from Lauren company spokeswoman Lauren Burm.
"We are still in the early stages of developing the state's first commercial scale offshore wind farm," said Burm. "The process from start to finish is about seven years and we are well on our way and working hard with our partners toward carefully and mindfully delivering on our $695 million in-state spend commitment."
New Jersey commercial fishermen who have been trying to slow the wind industry momentum were encouraged by news of the legislators' new skepticism.
"Some of these legislators are starting to see the costs of all this," said Brick Wenzel, a Lavallette, N.J. fisherman who has been working with the New Jersey Farm Bureau, which recently joined fishing groups in calling for a five-year moratorium on wind projects.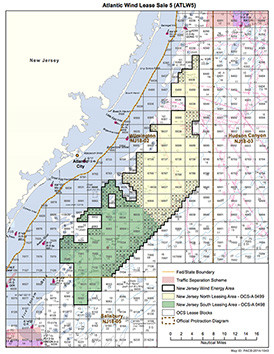 One complaint in the lawmakers' letter focuses specifically on plans to partner with German-based steel fabricator EEW to build a facility to build monopole foundations for turbine towers near the Delaware River port town of Paulsboro.
The Board of Public Utilities saw that intent in the Ocean Wind application and was also mindful the company's agreement with the South Jersey Building and Construction Trades Council to hire an all-union workforce. Construction has yet to go forward on the EEW facility.
Offshore wind boosters and their political and labor allies have eyed Paulsboro's potential as an offshore wind support base. Gov. Phil Murphy's administration earlier this year unveiled conceptual plans for a new "wind port" downriver, near the Hope Creek nuclear power station in Salem County.
That location is below fixed highway bridges over the Delaware River – which could be a key advantage in the future, if a developing U.S. offshore wind industry moves toward bigger and taller turbines and tower components moving to offshore on installation vessels and barges.