The Marine Refrigeration Solutions M.R. Solutions shop in Port Ludlow, Washington, lies tucked in among a stand of tall cedars.
"We basically work out of our driveway," says Doug "DC" Cannon, who has been working on refrigeration for over 20 years and runs the company with his son, Robert "RC" Cannon, and RC's wife, Elisabeth. No sign hangs out front - it's not needed because the Cannons work where the fishermen are. Among other things, they service the Bristol Bay salmon fleet 1,638 miles away as the crow flies.
"We service their RSW [refrigerated seawater] systems," says DC Cannon. "All makes and models, including systems cobbled together from a variety of components."
Every summer, RC, Elisabeth, and their three children pack up and head to Dillingham, Alaska to get the salmon fleets' RSW systems up and running. This season, the Cannons equipped three boats with their beta prototypes of the M.R. Solutions own RSW units.
"We have built our own RSW," says DC. "It's a 10-ton that our tests say gives 10 percent better performance than our leading competitors' when you're cooling seawater from 55 to 32 degrees." According to DC, faster cooling means getting fish aboard and down to temperature faster and making more trips a week. "You can pay for your upgrade in a season," he says.
In addition, DC contends that its RSW is more user-friendly. "We have a lot of experience with these boats, so we designed a unit that is easy to work on. For example, we have a belt change that we can do on the bench in 5 minutes. That's 15 minutes when you're on a boat and are tired and don't really have time to change a belt because an opening is coming up."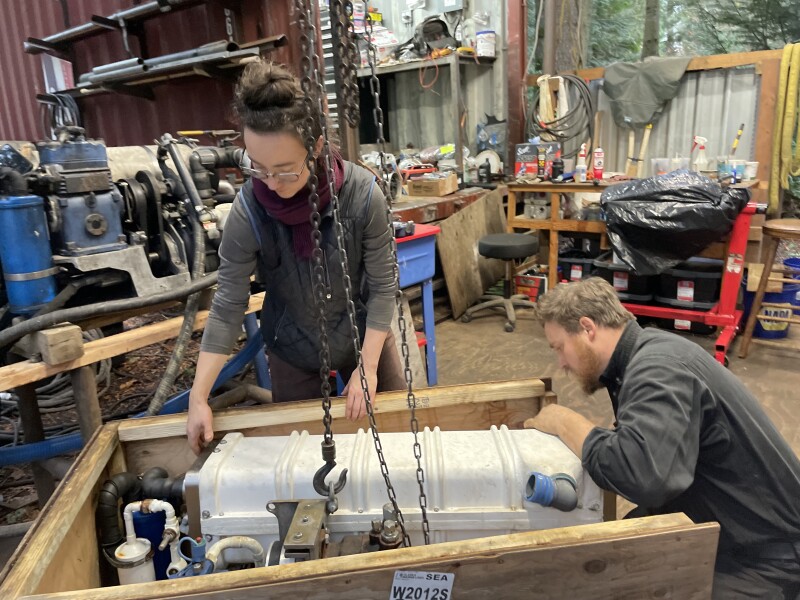 In late November 2022, son RC uncrates one of the beta units that had been shipped back from Bristol Bay. "We're going to take it apart and see how it held up," he says, standing in his shop - more or less. It's kind of an open breezeway between two shipping containers full of tools and workbenches. An array of pipes and gauges run down from a test tank and cooling tower on top of one of the containers. "That allows us to test the machines," says RC. "I can hook a unit up to this and run it for hours stress testing it before it leaves the shop."
With a chain hoist, RC lands the RSW unit on his outdoor workbench. "There's nothing really revolutionary here except the chiller," RC says. "That's 100 percent our design. It has a unique water flow path in it that allows for much better heat exchange." M.R. Solutions manufactures the chillers and is building a larger shop to handle an expected increase in production. "We design the components on a computer," says RC. "We use a 3D CAD program and send the files off to have the parts machined. When they arrive, we inspect and assemble them here."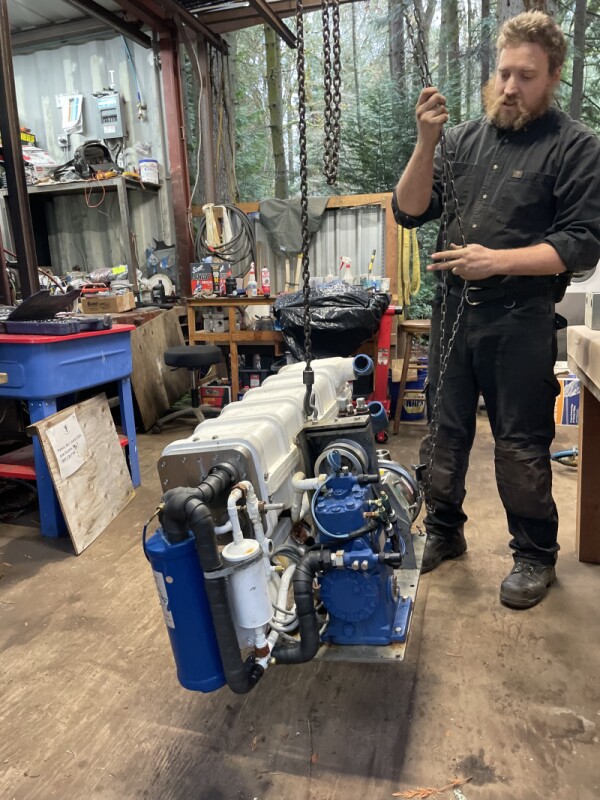 RC Cannon reports that he built two hydraulic units and one diesel drive. "This one's hydraulic," he says, pointing to the various components and explaining the basics. The unit consists of a Parker hydraulic motor and a Bosch compressor with belt drives to two water pumps that force salt water through the chiller and cooling water through the condenser.
"This is a $40,000 machine," says RC. "It's a 10-ton unit. A ton is 12,000 BTUs an hour at 48 degrees, so 10 tons is 120,000 BTUs - that's how much heat this unit can move in an hour."
RC explains that the amount of heat an RSW system can move changes as the temperature drops. "Imagine you had a room full of golf balls bouncing around in zero gravity, and those balls represent heat. And you had a bucket to take those balls out with. In the beginning, you're pulling out full buckets, but towards the end, you can only get a few balls with a swipe. It's the same with RSW. At 33 degrees, I might only be moving 8,500 BTUs an hour."
RC's tests indicate that thanks to his chiller design, he is moving heat faster than other 10-ton machines on the market. "Another ton per hour," he says. According to RC, Bristol Bay fisherman Patrick Belt ran the machine during the 2022 season and reported chilling 12,000 pounds of fish to temperature in just 3 hours. Belt was able to catch, chill and deliver another 8,000 pounds with the time he gained, says RC.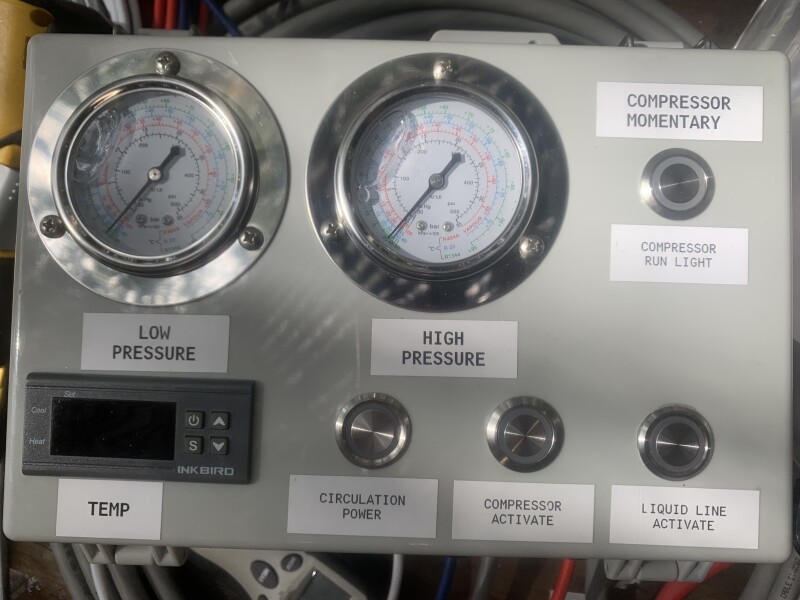 After they take the three prototypes apart and analyze them, the Cannons expect to make the chiller a little smaller. "This will be a 10-ton unit that you can put in the space of an existing 7.5-ton unit," says RC. "We plan to make them with the same footprint for boats that want to switch."
The Bristol Bay sockeye season usually lasts less than a month, and millions of dollars are made in that short window. In such a competitive environment, the Cannons believe that the projected efficiency and simplicity of the M.R. Solutions RSW will be the main motivator to get fishermen to invest in their 10-ton units. "Our website is rswstartup.com," says Elisabeth Cannon, noting that the company also conducts 3-day refrigeration seminars for fishermen.