On behalf of all the businesses, community collaborators, and volunteers, the 2023 Walk the Working Waterfront will take place this Saturday, June 3rd, in Portland, Maine!
The New England Ocean Cluster would like to thank those that made the 2022 event possible and look forward to bringing life to Commercial Street this upcoming weekend for the 8th season of the event. This fun and interactive way to explore Portland's rich maritime culture and history is a great opportunity to learn and delve into Maine's fishing community. The event was designed to promote awareness of the importance of our city's working waterfront infrastructure. Those who participate can explore the many working wharves, tour vessels, visit the many educational stations, and meet the fishermen that make up our great city.
It is important to share with the public the importance of the fishing industry in our local community and learn how it supports many Maine families. We encourage you to join us and help show support for this way of life.
See the full 2023 event map here.
Maine State Pier
Tour the City of Portland's Fireboat and talk with the firefighters. These are the folks that are keeping Casco Bay residents safe by connecting them with emergency services.
Maine Wharf
To name a few, Bangs Island Mussels, Atlantic Sea Farms, and Fogg's Water Taxi and Charters will be available to visit just past Scales Restaurant. Beginning at 2:30 pm, Fogg's will be available to take community members out for a scenic cruise of Portland Harbor with views of lighthouses, Casco Bay islands, and marine life. Check out their website for more information and to purchase tickets.
Custom House Wharf
Sitting amid Portland's bustling working waterfront, Harbor Fish is a local landmark dating back to the 1800s. Gilberts Chowder House, Boone's Fish House & Oyster Room, and The Porthole will be offering local seafood dishes and local brews for purchase. Sea Bags, manufacturers of handmade recycled sail bags, will be raffling off an Anchor Beverage Bucket Tote.
Portland Pier
Featuring two iconic eateries, J's Oyster House and Luke's Lobster, Portland Pier also features Rocky Bottom Fisheries. You will be able to meet lobstermen and learn how lobster traps work. Rocky Bottom will be offering 90-minute tours aboard the F/V Wild Duck at 9am, 11am, 1pm and 3pm sharing the ins and outs of commercial lobstering. To purchase tickets, visit their website, and if you are lucky, they will be able to show you the vessel between trips. Rocky Bottom will also be raffling off some swag, so be sure to stop by.
Long Wharf
Long Wharf will feature free samples of DiMillos Restaurant signature clam chowder beginning at 11am until supplies last. Portland Discovery Land and Sea Tours will be offering a cruise into the harbor for their Harbor Lights & Sights with trips from 10:30am, 1pm, and 3pm.
Chandler's Wharf
Enjoy a pitstop at Portland Lobster Company for some live music on the outdoor deck with local brews and lobster rolls for purchase.
Widgery Wharf
You can't miss the views on Widgery, a wharf built in the late 1700s, which has since supported working fishermen. Jam-packed with shacks, lobster traps, nets, buoys, and working gear everywhere you turn. Feel free to take the journey down Portland's oldest wharf, but please be respectful of fishermen's space.
Union Wharf
Swing into Union Wharf Market for wicked good quick bites, including homemade dips, local crackers, and pretzels.
Merrill's Wharf
Check out "The Desert" where commercial fishermen tie up their vessels, lay out gear, and prepare before heading back out to sea. In need of a mid-walk brew? The King's Head is the place to refuel and check out daily food specials as well as over 30 local drafts.
Portland Fish Pier
Meet Portland's Harbor Master, learn about water safety and take a tour of his boat. Eimskip and Maine Port Authority (MPA) will be hosting a water station inside a shipping container while celebrating 10 years of successful partnership. Join the Lady Shuckers and learn their mission of supporting women-owned sea farms. Buy ½ a dozen of oysters at this stop to be entered to win 2 cruise tickets aboard a Feel Good Portland sunset beer and oyster cruise on The Frances this summer. Bristol Seafood, Hannaford & All Grill, and Maine Coast Fishermen Association will be serving up fresh seafood for purchase as well as celebrating the future generations of Maine fishermen.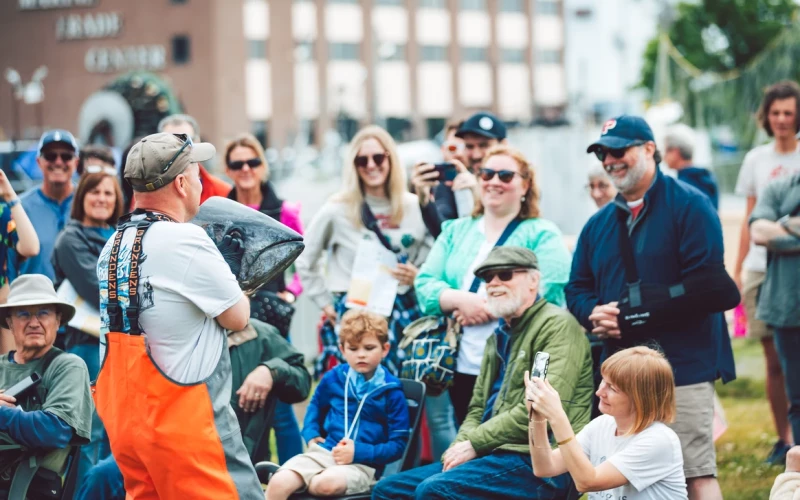 Wright's Wharf
Maps are available at this location.
Coordinator Bill Needelman will be departing the info station at 12pm and 2pm for a guided historical walking tour, however, tours will be limited to 30 people, on a first come first served basis. Gulf of Maine Research Institute will provide an interactive LabVenture demo with hands on research displays, community projects, and two scheduled tuna dissections at 11:30am and 1pm with Dr. Walt Golet. Joining Gulf of Maine Research will be Ian Mayo of Maine Fisheries located behind the research building using one of his cranes to lift gear used for commercial fishing. True Fin and Luke's Lobster food truck will be offering fresh local fish chowder and lobster. Finally, The Waterfront Alliance team will be greeting walkers as well as sharing their commitment to protecting and promoting the Port of Portland and the working waterfronts of South Portland and Portland.
Hobson's Wharf
Becky's Diner will be offering nothin' finah than their fresh baked cookies at their world-famous Portland waterfront location. Make sure to snap a photo in the mermaid and giant lobster cutout until 2pm at Aqua Diving Academy.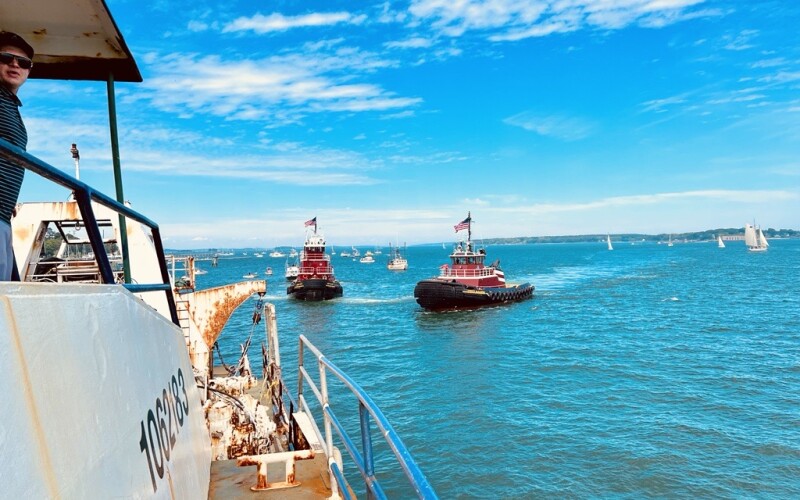 Sunday's Blessing of the Fleet- Update- NOW Sunday, June 18th due to weather
Don't forget to hang around Portland for the Sunday "Blessing of the Fleet". Peninsula & Island Parishes, Fr. Seamus Griesbach shares, "All boats are welcome. This is not an event for Catholics only." Marine vessels will begin assembling at 2pm in front of the Maine State Pier. The event will feature a variety of boats, including water taxis, lobster boats, trawlers, and recreational boats. The 2022 blessing saw over 50 boats in attendance, and all are welcome on foot down to the end of the Maine State Pier to watch the boats go by at this family-friendly event.
The blessing of the fleet is a Catholic tradition that is celebrated in many maritime communities throughout the world. For more information, contact the parishes at 207-773-7746.