Chesapeake Bay's Bonnie M goes out for blue crab, conch and oyster
Cockrell's Marine Railway in Northumberland County, Va., has the Bonnie M, a 45-foot fiberglass deadrise commercial fishing boat, in the boatshop building and the 42-foot skipjack Claud W. Somers up on the rails for repair.
Don Miles of Jamesville, Va., on Virginia's Eastern Shore had his Hulls Unlimited-East fiberglass deadrise at the yard in October to have the exhaust system converted from dry to wet and to have new pilothouse windows installed.
Shop manager Brian Dyke says 6-inch Vernatube Wet Exhaust Tubing was used for the new wet-exhaust system from the engine to forward of the stern. The old dry-exhaust piping was also removed.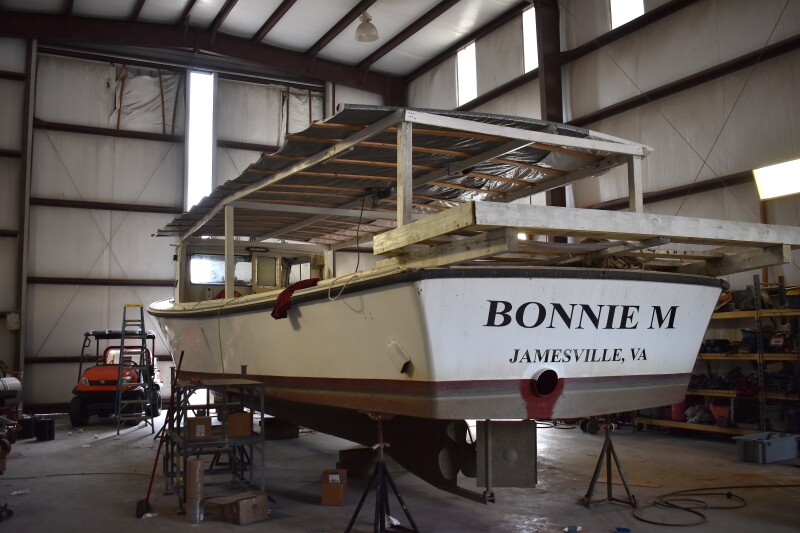 The wet-exhaust system will give the Bonnie M a quieter ride and — with the removal of the dry-exhaust pipes on deck — will give the boat more work and payload space, says Dyke.
The Bonnie M is powered by a 3208 Caterpillar Diesel engine, which required 6-inch exhaust tubing. Dyke says Miles plans to repower the boat sometime in the near future.
"He had us install 8-inch Vernatube tubing through the stern so when he repowers with a larger engine, the exhaust system stern work will already be done," Dyke says.
The international shipping slowdown may have impacted the timeline for replacing the windows. Myles Cockrell says the custom aluminum windows are back-ordered from Wynne Enterprises in Tuscumbia, Ala.
"We are depending on the rest of the world now to make everything for us and get it to us, and that's created a big problem," says Cockrell. "The materials to make the windows are probably sitting offshore in a boat waiting to be off-loaded."
In the meantime, Miles needed his boat to go fishing. He works in Virginia's blue crab, conch and oyster fisheries. "We took the old windows out, made a template for the new ones and put the old ones back in so he could take the boat and go back to work," says Cockrell.
On the skipjack Claud W. Somers, the yard replaced the mast-step with salt-treated wood, pulled the mast out and replaced wooden wedges at the base of the mast that help keep it firmly in place. The yard also painted the topsides and bottom.
Cockrell's Marine Railway is one of just a few mid-Chesapeake Bay railways on the western shore still in operation. The Reedville Fishermen's Museum depends heavily on Cockrell's to maintain the classic wooden work boat that they use as an education boat.