Hurricane Zeta came ashore Oct. 28 with winds around 110 mph, leaving heavy damage and widespread power outages across southeast Louisiana and six other states.
Louisiana Gov. John Bel Edwards said the storm surge peaked around 10 feet, and that Zeta's damage was mostly inflicted by wind.
"The closer you are to the coast the heavier the damage is," Edwards said at a Friday media briefing, after an aerial survey of the region.
The brunt of the storm appeared to have hit at Grand Isle, Port Fourchon and Terrebonne Parish, and officials were planning to make another flight over Plaquemines and St. Bernard parishes that afternoon, said Edwards.
"We got hit pretty hard across the entire Mississippi coast," Ryan Bradley, director of Mississippi Commercial Fisheries United, told National Fisherman via email.
"Lot of folks are still without power. Lot of seafood infrastructure has been damaged," said Bradley, adding the aftermath "will cause significant disruptions to our seafood industry for many weeks."
While many recreational boats were wrecked or sunk, most of the commercial fleet based at Pass Christian harbor survived with only minor damage, said Bradley. However the onshore facilities are heavily damaged, he added.
"This comes during a productive time during our shrimp season and will take months to recover," said Bradley.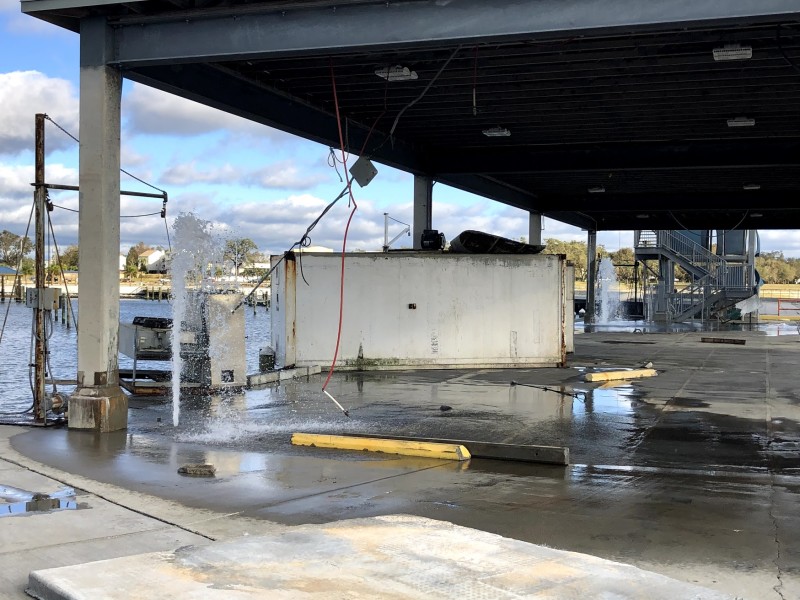 The storm surge forced three breaches through the so-called "burrito levee" — sand-filled tubes installed by the Army Corps of Engineers to protect the Gulf of Mexico side of Grand Isle.
"But the rest of the (levee) system held up very well" across the region, Edwards said.
From a peak of 519,000 outages after the storm, 326,000 electric customers in Louisiana and more than 200,000 in Mississippi were still without power Friday afternoon, although officials said restoration work was picking up.
It was another setback to a region still far from recovered after Hurricane Laura's Aug. 27 landfall near Cameron, La., as a category 4 storm, followed by Tropical Storm Delta just two weeks later. Edwards said more than 3,000 persons displaced by Laura — many of them from the devastated Lake Charles area — are still being sheltered around the state.
One death associated with Zeta was reported in New Orleans, a 55-year-old man electrocuted by a downed power cable. Edwards and Jefferson Parish president Cynthia Lee Sheng said the recovery periods after storms have been deadlier than the weather itself, with deaths and injuries from portable generators emitting carbon monoxide into homes, and people injured while trying to clear downed trees and repair roofs.