Intensifying rapidly, Hurricane Laura was predicted to come ashore with "unsurvivable storm surge" Wednesday, Aug. 26, as the National Hurricane Center predicted a path for the storm center landfall near Lake Charles, La.
The coast around Calcasieu Lake could see the peak storm surge drive water 15 to 20 feet above ground level in Cameron Parish and push as far as 40 miles inland toward the I-10 highway artery, federal and state emergency management agencies warned.
The Gulf of Mexico fishing fleet scrambled to secure vessels as Laura rapidly intensified Tuesday into Wednesday, approaching category 4 status by afternoon with peak winds forecast over 130 mph. Battered by past storms – including the catastrophic Katrina and Rita 15 years ago – fishermen braced for consequences to the fisheries beyond immediate damage.
"I've seen some come and take it all out with it," Acy Cooper, president of the Louisiana Shrimp Association, told television station WGNO in New Orleans. "We just struggle the next year."
The hurricane center stressed people in the storm's path should leave because of the likely extent of the surge.
"Unsurvivable storm surge with large and destructive waves will cause catastrophic damage from Sea Rim State Park, Texas, to Intracoastal City, La., including Calcasieu and Sabine lakes," forecasters warned on social media. "This surge could penetrate up to 40 miles inland from the immediate coastline.
"Hurricane-force winds are expected tonight in portions of the hurricane warning area from San Luis Pass, Texas, to west of Morgan City, La., with catastrophic wind damage expected where Laura's eyewall makes landfall."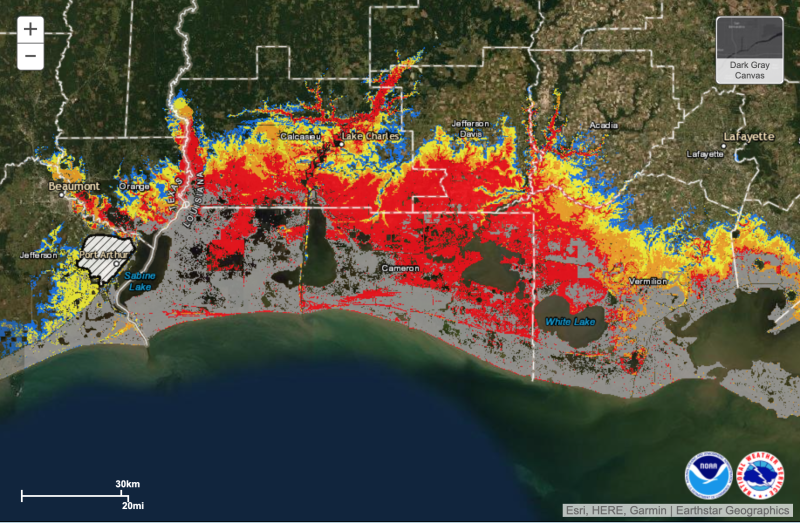 At 4 p.m. Central time, the eye of Laura was near latitude 27.9 north, longitude 92.8 west, and moving toward the northwest at nearly 16 mph, with hurricane-force winds extending out 60 miles from the center, according to a hurricane center update.
"A gradual turn toward the north-northwest and north is expected tonight. On the forecast track, Laura will approach the Upper Texas and southwest Louisiana coasts this evening and move inland within that area tonight," according to the update on Wednesday. "The center of Laura is forecast to move over Louisiana tomorrow, across Arkansas Thursday night, and over the mid-Mississippi Valley on Friday."
"Reports from an Air Force Reserve Hurricane Hunter aircraft indicate that maximum sustained winds have increased to near 145 mph with higher gusts. Laura is an extremely dangerous category 4 hurricane on the Saffir-Simpson Hurricane Wind Scale. Some additional strengthening is possible this evening before Laura reaches the northwest gulf coast overnight. Rapid weakening is expected after Laura makes over land."
In days ahead, Laura will likely lose strength and become a tropical depression, curving northeast and over eastern Kentucky by Saturday morning, according to the hurricane center. It could then emerge again Sunday over the Atlantic, resume storm strength, and barrel across the New York Bight and New England waters to end up over Newfoundland Monday, according to the center's modeling predictions.