A Florida Keys man convicted of illegally catching more than 500 pounds of reef fish in the Bahamas was ordered by a U.S. judge to hand over his new, 30-foot high-end Contender center console boat to become a fisheries patrol boat for the Bahamas military.
Henry J. Danzig, 57, of Tavernier on Key Largo, Fla., was sentenced May 6 after pleading guilty to charges of bringing back 167 fish from Bahama waters on May 9, 2020 in violation of the federal Lacey Act that prohibits importation of fish and wildlife taken in violation of another nation's laws.
Federal prosecutors charged Danzig and four companions were returning from the Bahamas on his 39-foot Contender boat Bodacious when they were stopped and boarded by the U.S. Coast Guard as part of cooperative enforcement efforts between U.S. and Bahamas authorities.
The case came out of a law enforcement project called "Operation Bahamarama" that focuses surveillance on fishing between Florida and the sprawling island nation. The National Marine Fisheries Service Office for Law Enforcement, Coast Guard, and the Florida Fish and Wildlife Conservation Commission are running it "to specifically target illegal, unreported, and unregulated fishing" in and around the U.S. exclusive economic zone and its overlap with neighboring nations.
About 529 pounds of fish were seized, which authorities said were caught in Bahamas waters while the nation was closed to foreign vessels because of the covid-19 pandemic.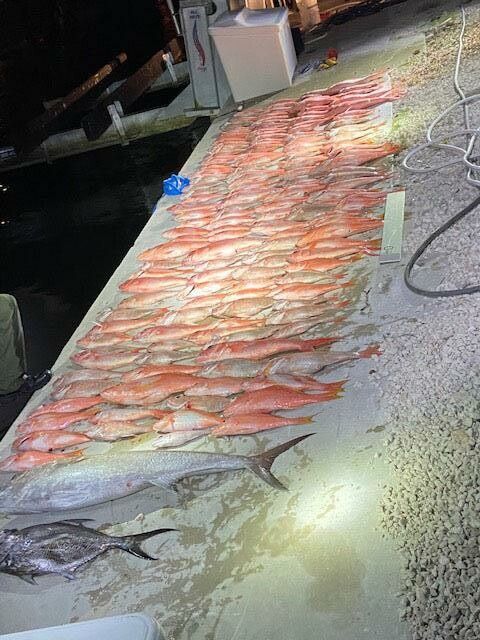 Island nations in the Caribbean took strict measures to control commercial, fishing and recreational vessel traffic during 2020, to protect their own fragile public health systems. That enforcement swept up some unfortunate U.S. fishermen and yachtsmen.
After boarding Danzig's boat. "additional investigation revealed that Danzig was co-owner of the City Hall Café, in Tavernier through which some illegally sourced Bahamian fish had been sold on prior occasions," according to a statement from the U.S. Attorney's Office for the Southern District of Florida. At a hearing in U.S. District Court in Key West before federal Magistrate Judge Lurana Snow, Danzig was sentenced to probation for one year and a $25 "special assessment."
"In addition, Danzig was ordered to make restitution to the Commonwealth of the Bahamas for his illegal harvesting activities, by forfeiting a newly constructed and outfitted 30-foot Contender Tournament boat, which will be employed by the Royal Bahamas Defense Force to prevent, deter, and eliminate illegal and unreported fishing within the archipelagic waters of the Bahamas," according to the U.S. attorney's office.
Contender boats in that class are typically priced around $300,000 according to Florida boat brokerage listings.
"In conjunction with the Commonwealth of the Bahamas and the Bahamas Defense Force (BDF), air and marine assets, and intelligence gathering efforts were instrumental in the success of this particular mission," prosecutors said. "Information had been received by NOAA special agents regarding Florida-origin IUU fishing in the Bahamas, resulting in enforcement efforts focused on known violators."