November 8, 2023
Welcome to Pacific Marine Expo 2023
Welcome to Pacific Marine Expo, the only trade event dedicated exclusively to the Pacific maritime industry and the largest and longest-running commercial marine tradeshow on the West Coast. We are so excited to be back. This year I am happy to report that once again, the show continues to grow with over four hundred industry-leading exhibitors displaying in over 60,000 square feet here at Lumen Field Event Center.
As you explore the show floor, you'll discover a diverse array of products and services, including marine engines, propulsion systems, electronics, safety gear, wearables, and much more. We firmly believe that there's no better place to equip yourself and your vessel for what lies ahead in 2024, and we're so thrilled you've decided to spend the next three days doing just that with friends and colleagues at Expo.
If you've joined us in previous years, you've likely taken part in our post-event surveys, which greatly inform our planning. In 2022, our free Education Program was exceptionally well-received, and this year, we've expanded our lineup of keynote sessions on the Main Stage in the Alaska Hall. These sessions will cover an array of topics, from Mental Health for Commercial Fishermen to the transition of Commercial Fishing Vessels to Electric power, along with a captivating panel discussion on Alaska Fisheries aimed at separating fact from fiction.
Furthermore, we're introducing a new educational opportunity this year, known as "Dockside Chats," hosted in the National Fisherman Wheelhouse at booth #150. These intimate, small-group sessions will address the day-to-day questions and concerns relevant to your industry, covering everything from fishing to finance to family. We hope you take advantage of this innovative way to connect one-on-one with your peers from across the country.
Finally, rounding out the Expo experience is the Coastal Challenge sponsored by the Port of Seattle. The Coastal Challenge is the re-imagined and expanded version of our fan-favorite Fisherman of the Year contest. Join us in the brand-new National Fisherman Arena as individuals compete in qualifying rounds all three days of the Expo. Winners can earn a grand prize of up to $550, plus a sponsored swag bucket. Interested in competing? Stop by the Port of Seattle Booth #2600 to sign up!
If you're reading this, chances are you make your living on the water, and Expo is your one-stop-shop every year for your commercial marine business. We know this time of year is busy, and we are truly honored that you've chosen to invest your time here this week. This year's show is shaping up to be one of the best yet, and we're thrilled to be able to share it with you.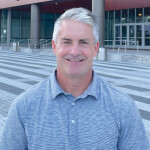 Bob Callahan
Group Vice President / Show Director / Publisher
Pacific Marine Expo & National Fisherman
(207) 842-5592 • [email protected]
Join the Conversation