Fishing is safer today, the statistics suggest, and the second fatality-free commercial fishing season in Alaska confirms a trend that must be credited to the fishing industry. New funding announced aims to expand the safety of fisherman and offer better career options. Is fishing a career for you?
A report from the Coast Guard 17th District Commercial Fishing Vessel Safety office published by the end of 2022 revealed that the commercial fishing industry in Alaska had its second operational fatality-free year. It's the second fiscal year that this happens, the first being in 2015, and it clearly shows a statistical trend: commercial fishing has been getting safer.
According to the U.S. Coast Guard, these statistics are measured in the federal fiscal year, which runs from October 1st through September 30th. An operational fatality is defined as a death occurring as a result of an incident at sea, such as a man overboard, a sunken or lost vessel, or an on-deck accident, to name a few.
In 2015, for the first time, no one in Alaska died commercial fishing in a vessel-related incident. History repeats itself in 2022, and, according to Scott Wilwert, commercial fishing vessel safety coordinator for the Coast Guard 17th District, "most all the credit to the fishing industry when it comes to staying safe and alive".
A fishing vessel safety expert, Scott Wilwert added that "the efforts of Coast Guard fishing vessel examiners and maritime training organizations like the Alaska Marine Safety Education Association (AMSEA) and the North Pacific Vessel Owners Association (NPFVOA) also play a vital role in preparing fishermen to survive an incident at sea and utilize the equipment they have onboard during an emergency."
Although commercial fishing is a dangerous activity anywhere in the world, Alaska poses special challenges. Between 1980 and 1988, an average of 31 fishermen died in Alaska each year.
According to the National Institute for Occupational Safety and Health (NIOSH), the federal government agency responsible for conducting research and making recommendations for the prevention of work-related injury and illness, "commercial fishing is consistently one of the most dangerous occupations in the US, with a rate of 117 fatalities per 100,000 workers reported during 2012, 36 times higher than the average workplace fatality rate of 3.2 per 100,000."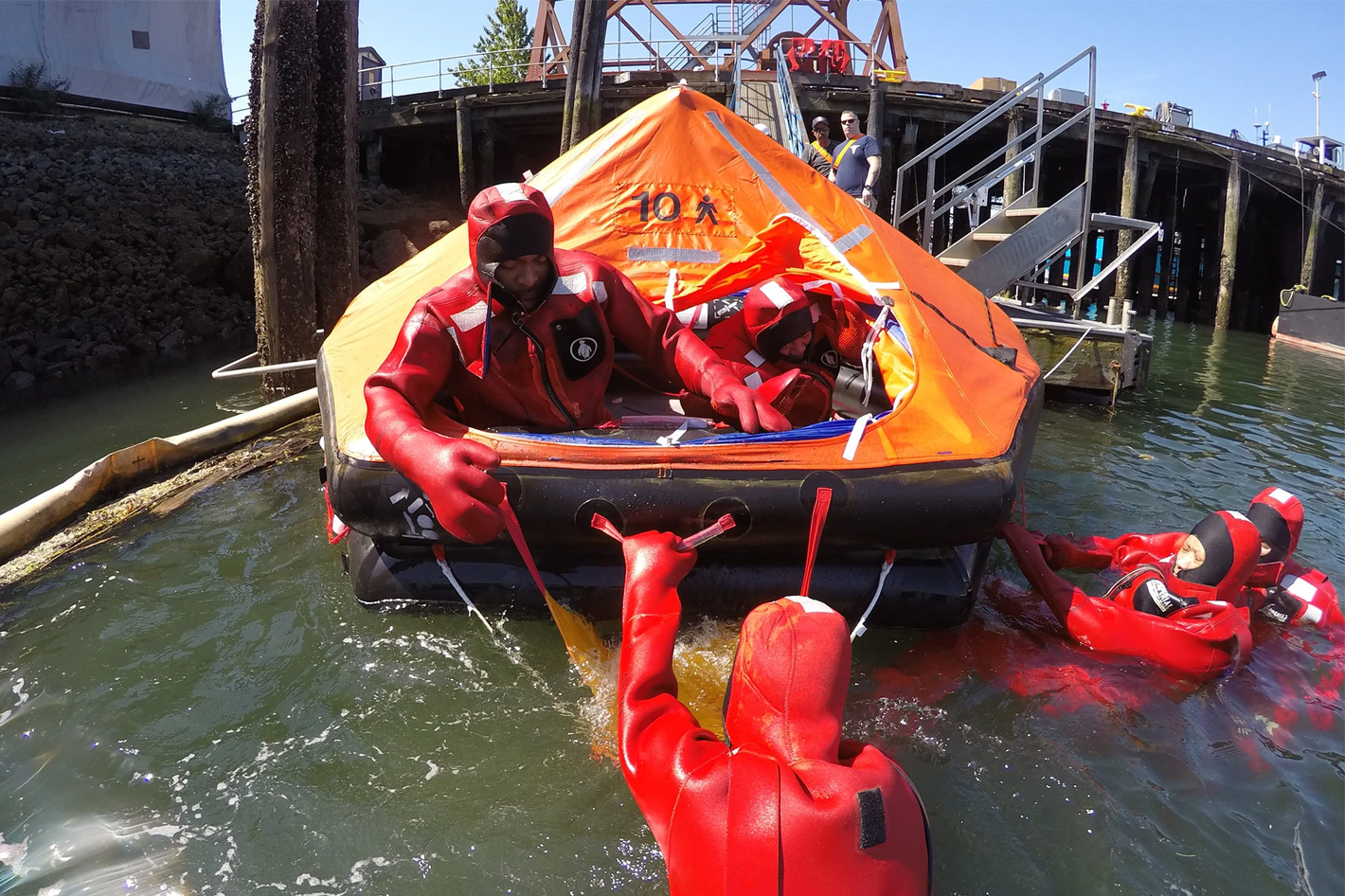 Drills to maintain the crew's proficiency
NIOSH has been researching commercial fishing safety in Alaska since the early 1990s. Alaska's commercial fishermen work in one of the world's harshest environments and experience conditions that have a strong impact on their safety. One-third (399) of all work-related deaths that took place in Alaska during 1990–2014 occurred in the fishing industry.
NIOSH maintains the Commercial Fishing Incident Database (CFID) and has published a series of reports on commercial fishing fatalities in four US regions: Alaska, West Coast, East Coast, and the Gulf of Mexico.
According to the organization "fishing fatality rates vary substantially by fishery. Alaskan fisheries differ in geographic location of fishing grounds, type of harvesting equipment and techniques, time of year, and duration. Crabbing is particularly hazardous, because harvesting of most crab species in Alaska generally takes place during the winter months, with short daylight hours and often in rough weather conditions."
Having a second fiscal year without any death represents a milestone and Wilwert says, "we definitely want to keep this momentum going through calendar year 2022 and beyond," adding that "the linear trend of operational fatalities in the commercial fishing industry in Alaska has been steadily downward and we want to continue to work with the industry to keep it that way.
"Dangers are ever present in the fishing industry and are the reason we're encouraging mariners to remain vigilant when it comes to crew training and safety."
Fishing vessel owners and operators are reminded of the importance of properly maintaining their vessel's lifesaving equipment, ensuring that all crewmembers working on deck are wearing personal floatation devices, and conducting regular shipboard drills to maintain the crew's proficiency at operating shipboard emergency equipment.
The Coast Guard also encourages owners and operators to review and be knowledgeable of the general maintenance and upkeep of their vessels. Minor hull leaks and machinery failures should be properly repaired and documented. Vessel operators need to be fully aware of the operating constraints that may pertain to their vessels, including awareness of the risks of both overloading a vessel, icing, and operating outside the restrictions of their stability letters as well as the crew's ability.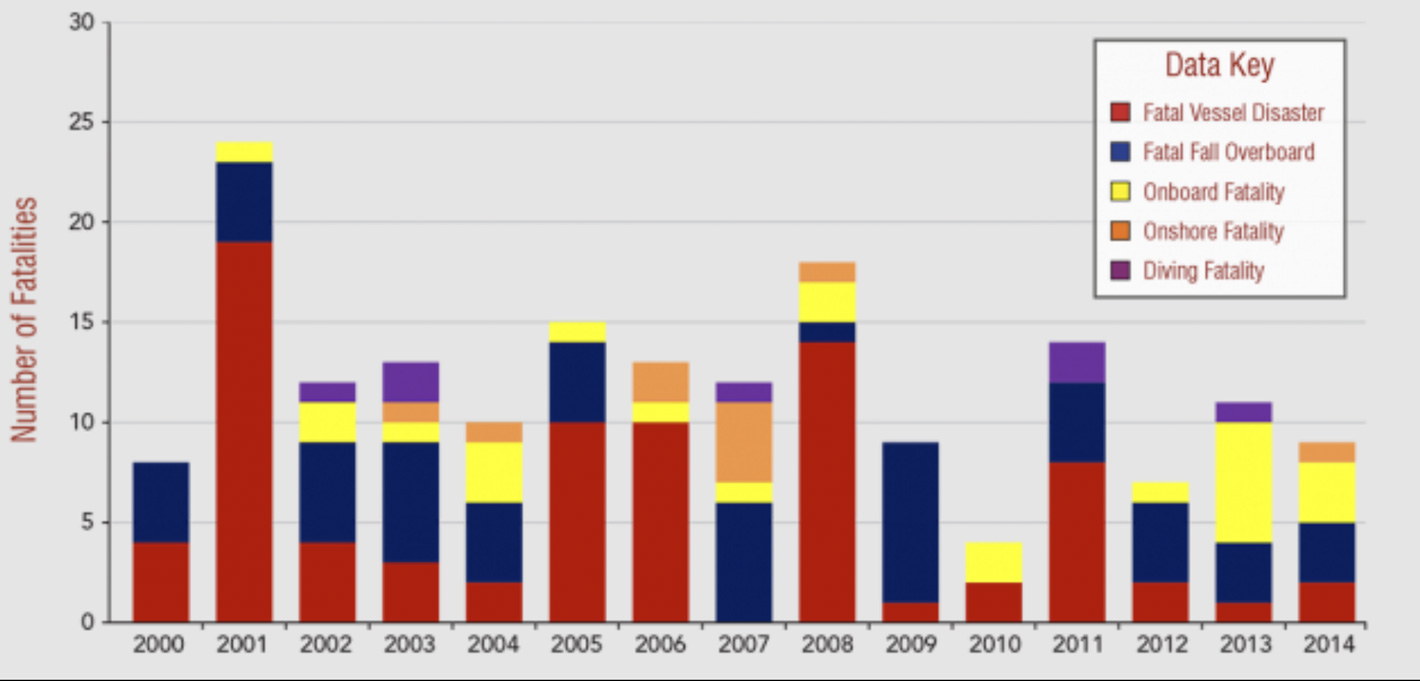 New funding for commercial fishing training
Despite the good news, the Government Accountability Office said in a new report published in November 2022 that the Coast Guard can do more for fishing vessel safety, as National Fisherman reported. According to the report, GAO reviewers found the Coast Guard has not fully implemented 17 of 22 statutory requirements since 2010 to improve commercial fishing vessel safety, such as developing a training program for fishermen, and re-establishing an advisory committee on industry safety issues.
Training is essential to make the profession safer and to attract young people to the industry. That's the reason why NIOSH and the U.S. Coast Guard announced new funding - $6 million dollars - for commercial fishing safety research and training in 2023.
The goal of the fishing safety training project grant program is to enhance the quality and availability of safety training for United States commercial fishermen. The specific objectives of the program are to:
address the training needs of commercial fishermen with regional differences and specific fleets in mind,
increase the number of qualified maritime safety instructors and drill conductors in the United States to conduct these types of trainings,
develop, offer, and implement "train the trainer" and refresher courses,
develop and deliver hands on safety training to commercial fishermen, and
provide qualified instructors and faculty to achieve the goals of this program.
One of the projects announced, "National Fishing Safety Training Infrastructure", from the Alaska Marine Safety Education Association (AMSEA), plans to "reduce injuries and illnesses to commercial fishermen by developing and delivering safety training in multiple fishing regions in the United States."
It aims to do so through increasing the population of safety training instructors, improvement of the skills and knowledge of existing trainers, increasing the availability of safety training in underserved regions and populations, including Native American, Hispanic, and Vietnamese fishermen, and expanding training available to apprentices in fishing ports.
New funding and opportunities in 2023
AMSEA also has a second project, "Commercial Fishing Safety Training and Materials Development", that aims to address the high fatality rate among commercial fishermen by increasing the accessibility to skilled-based fishing safety training and fishing safety instructors. This project will enhance both the quantity, quality and availability of safety training for commercial fishermen by supporting and expanding the number of commercial fishing safety trainers in the U.S. ports through AMSEA's Coast Guard accepted instructor-training course.
The Alaska Marine Safety Education Association will coordinate with other existing commercial fishing safety programs in sharing resources, coordination of training, promotion and other aspects to provide affordable, accessible, relevant, hands on training to fishermen in West Coast states and Alaska.
The new funding and opportunities may help to attract a new generation of fisherman. Already back in 2016, when the first fatality-free year in Alaska was registered, Scott Wilwert said management practices have made fishing safer, and fishermen are better equipped and better prepared. Programs like those announced for 2023 will help to keep them safer, even in the most dangerous fisheries.
Here comes the question again: is a career in commercial fishing something for you? If you want a normal 9-to-5 job, no. But if you really want to be a professional fisherman and are not afraid of hard, physical work, it can be a career. With technology helping to make fishing boats better and safer, and training helping to make fisherman more cautious and aware of the risks, it's a career you can make good living doing.
According to Talent.com, the average fisherman salary in the USA is $48,750 per year or $23.44 per hour. Entry level positions start at $39,000 per year while most experienced workers make up to $71,175 per year.
According to the U.S. Bureau of Labor Statistics (BLS), employment of fishing and hunting workers is projected to grow 2 percent from 2021 to 2031, slower than the average for all occupations. Despite limited employment growth, says BLS, "about 4,400 openings for fishing and hunting workers are projected each year, on average, over the decade. Most of those openings are expected to result from the need to replace workers who transfer to different occupations or exit the labor force, such as to retire."