Anyone who has ever seen their deck under waves of green water and lived to tell knows the value of reliable hatches. A casual perusal of Coast Guard and National Transportation Safety Board accident reports will reveal numerous cases of downflooding from hatches that fail or have been poorly secured.
Faulty hatches in watertight bulkheads, or over shaft alleys, can also lead to water loss and free-surface effect in live tanks or RSW holds, or flooded engine rooms. Everyone who works on the water has heard horror stories of these sorts of things at one time or another.
In this writer's first blow, September 1978, 200 miles off the northern California coast, a few dozen albacore boats and at least as many lives were lost.
"I remember it well, even though I was only in grade school," says Debbie Spencer, of Brookings, Ore. "I was out with my dad, Howard Rigel, on his 36-foot wooden boat the F/V Dorothy V, 250 miles out. Waves washed all our hatch covers off. We had to turn around, pick them up, and nailed them all on. Listening to all the radio traffic, maydays and the Coast Guard, all night. I looked at my dad and said, 'We're going to die, aren't we?' My dad responded, 'Hell no, we're not going to die. Now you go lay down, and when you get up, we'll be safe.'"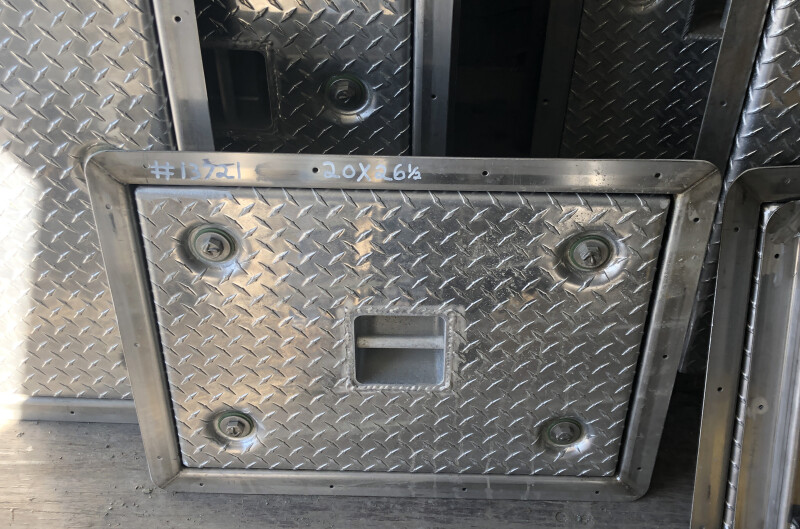 Aware that seaworthy hatches, doors and windows are vital for any boat, manufacturers are doing their best to give fishermen what they need. At the Snow & Co. yard in Seattle, the Wizard, of "Deadliest Catch" fame, is getting new doors from a Norwegian manufacturer, Libra.
"She took a wave that went through the wheelhouse," says Eric MacDonald, Pacific Northwest sales manager for Imtra, a New Bedford, Mass.-based company that sells the Libra doors. "That wiped out everything. So when they were redoing the wheelhouse, they decided to replace the doors, too."
According to MacDonald, the Wizard owners chose aluminum doors in steel frames with the largest possible ports.
"I went down to the Snow yard here in Seattle and measured for the new doors. We have two types of frames, flat and L. With the flat, the measurements have to be exact, but with the L it has a little play." MacDonald measured the area, and they sent the specs to Norway, where the doors are manufactured and then shipped by sea or air freight. "Because of the quick turnaround time on this one, we used air freight."
Imtra sells three kinds of Libra doors — aluminum, steel and GRP, which is a type of fiberglass.
"We also sell UV shades," says MacDonald, noting that he supplied some for the Progress, which also had its wheelhouse windows smashed, and the wheelhouse flooded, while fishing in the Bering Sea. "We try to get people to use the UV shades when they're building. It's easier than when it's an afterthought."
Windows are important, too. And Bomar, the well-known maker of hatches, has brought out a new line of windows that includes steel frames.