National Fisherman's July issue featured an update on the Bering Sea trawler Progress after it was hit by a rogue wave last year.
This week the Seattle-based naval architecture firm Hockema Whalen Myers Associates released another update on the vessel's redesign and reconstruction at Fred Wahl Marine Construction in Reedsport, Ore.
Progress is owned by Evening Star Fisheries, which plans to relaunch the vessel and crew in time for the Bering Sea Pollock A-season in January 2020.
Design and build challenges
After being damaged, the 114' x 30'  Progress was towed from Dutch Harbor to Reedsport. Hunter Berns, general manager at Evening Star Fisheries, contacted Hal Hockema soon after for assistance in determining rebuilding options. The owners decided with the naval architects to add a 15-foot midbody, sponsons to widen the vessel to 41' 6", a two-level deckhouse, a freestanding mast, Nautican triple rudders for improved maneuverability, and to prepare the propulsion shafting for a future repowering.
Other modifications included increasing the refrigeration capacity, gantry modifications, rebuilding and increasing the size of the accommodations (an entire level was also added), and outfitting the new pilothouse with a suite of electronics.
All of this design and construction work had to be done while keeping the vessel below 200 gross register tons. The cost for tonnage compliance alone was several hundred thousand dollars.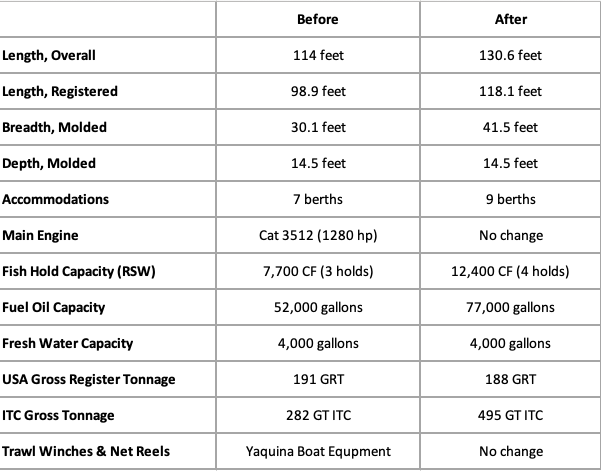 An extensive reconstruction can be more involved than a new construction project. In this case, numerous decisions had to be made regarding how much of the existing hull to save; how to build around and inside of the remaining parts. A triangle of continuous communication was set up between Hockema Whalen Myers Associates, Evening Star Fisheries and Fred Wahl Marine Construction. This communications solution was critical to the project's success. Based on his 40-year career in vessel design and construction, Hal Hockema has set policy for this type of communications triangle for complex projects, in order to ensure success for all involved.
A team from Hockema Whalen Myers Associates and Elliott Bay Design Group provided computer lofting, enabling the shipyard to build a curvaceous hull, and a complicated internal structural arrangement, which kept the registered gross tonnage below 200, a key threshold in the fleet.
The hull form was developed for maximum capacity while retaining efficient hydrodynamics, which is always a challenge when sponsoning existing vessels.
The Progress' unmistakable aqua blue hull of 130.6' overall length is equipped with a beautiful concave flared bow, large bulb, double chines at amidships transitioning to a molded hull form at the bow and stern, and large bilge keels (rolling chocks) on each side for roll damping. The original fo'c'sle was expanded into the sponsons as storerooms. Fo'c'sle house extensions were added on the port and starboard sides to house refrigeration and hydraulics rooms, and a workshop. The two-level deckhouse has staterooms on the fo'c'sle deck level and full-visibility pilothouse on the second level.
The trawl gantry was modified by raising and extending the trawl block arms. Existing trawl winches, net reels and gilson winches were retained and remounted.
Progress of the past
The  Progress was originally delivered in 1975 by Harold Hansen Boat Co. as a king crabber and was owned by Wilburn Hall of Newport, Ore.
Beanie Robison started relief skipper on the Progress in 1978, eventually becoming full-time skipper, then part owner in 1986. In the 1980s, the Progress was converted to a refrigerated seawater trawler, fishing the Gulf of Alaska and the Bering Sea for pollock and cod. The vessel was sold to Icicle Seafoods in 2013, then Icicle's catcher fleet was spun into Evening Star Fisheries. Beanie currently serves as port engineer.
After serving as a deckhand for many years, Tiffany McKenzie became skipper soon after Robison went shoreside. McKenzie remains skipper today and can't wait to get out fishing again with the rebuilt Progress.
The Progress's unplanned downtime also provided an opportunity for Evening Star to add capacity to their catcher fleet, thus the choice to enlarge the vessel.
Hal Hockema hosts a session on building boats for the Bering Sea at Pacific Marine Expo in Seattle on Friday, Nov. 22. Visit Pacific Marine Expo for details.