When Justin and Sarah Yager bought Sarah's grandfather's boat the BJ Thomas in 2018, they realized they'd have to put some serious work into the 90-foot by 22-foot Gulf of Mexico shrimper at some point. But a fire on the night of Feb. 27, 2019, wrecked the boat, and they had to do it sooner than expected.
"The fire started in the galley and spread down into the engine room," says Justin Yager, talking from offshore. The Coast Guard used bay water to put out the fire, ruining all the systems. "We didn't save much from the old boat," says Yager. "We pretty much gutted her. We cut off the bow; we cut off the stern. We didn't save any of the old systems, the electric, the mechanical, the plumbing."
According to Yager, the forward fish hold, the engine room, and a bit of the forepeak are all that remain of the old boat with a very different boat built around it — and a new name, the Dauntless. "My friends told me if she comes out of the yard as the B.J. Thomas, it'll always be the B.J. Thomas, this was the time."
The Dauntless originated as a Gulf of Mexico shrimp boat built at Marine Builders in Mobile, Ala., in 1976. Sarah Whaley Yager's grandfather Lloyd Whaley bought the boat at auction in Crescent City, Calif., decades later. The elder Whaley fished for crab and shrimp before selling the boat with all permits to Justin and Sarah Yager.
"We always knew we'd have to sponson her," says Justin Yager. "The fire forced our hand." They towed the damaged vessel 70 miles south to Fred Wahl Marine in Reedsport, Ore.
"We got her down there in late April," he says. "Usually when you're going to do this you plan for a year. But this caught us by surprise. It was late May or maybe later before we knew what we were going to do."
According to Yager, Scott Kent, engineer at Fred Wahl did the design work for the transformation of the BJ Thomas into the Dauntless. "Scott drew everything up, and Fred oversees it," says Yager. "They did it all in house. I like that. It's really good to have everything, all the engineering and design, done by the people who are doing the work. It simplifies everything. To have a boat in a yard is expensive and hard enough."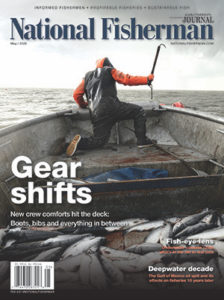 Read the rest of the story for free online – no paywall – just click here and scroll down to our April issue to download or view on screen.