Larry Jennings of Jennings Boatyard in Reedville, Va. keeps turning out garvey style commercial fishing boats. The firm has a 27' x 10' garvey just about complete that will be going to commercial fisherman Scotty George of Lancaster County, Virginia.
George is a commercial gill-net fisherman who fishes in the waters of the Rappahannock River and Chesapeake Bay. The boat is equipped with dual hydraulic steering stations. One is positioned inside the pilothouse and an outside station is located on the starboard side of the boat forward of the house.
The pilothouse is mounted as far aft as possible to provide for plenty of work and payload space forward. A net reel will be positioned forward of the pilothouse so George will be able to pick the fish out of the net from near the bow.
The boat will have the largest outboard engine that Jennings has installed on a garvey. A 350 h.p. dual prop Suzuki is mounted on a Welding World Inc.com aluminum engine bracket. An aluminum Atlas jacking plate is attached to the bracket. The jacking plate hydraulically raises the engine straight up and down six inches each way.
George installed the jacking plate on his boat to gain better engine performance when underway, says Jennings. When built for the oyster fishery, the jacking plate allows oystermen to work in as little as 6 inches of water when needed.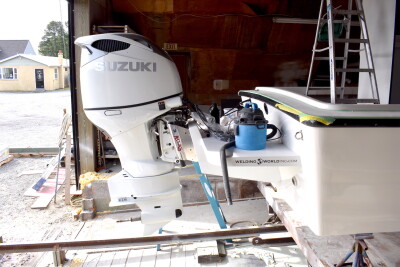 Jennings builds his garveys out of solid fiberglass and uses some Coosa Composite Board in the deck and stern to provide added support. Coosa Board is a core material with fiberglass embedded in it.
Jennings has built four molds for production of the boats. There is a hull mold; a stringer grid mold; a mold to shape bulkheads; and a fourth mold to shape the deck cap, which includes washboards, gunnels and top decks.
Jennings boats are similar to the Deltaville garvey a style that John Collamore Jr. and John "Chip" Collamore III of Hulls Unlimited East Inc. in Deltaville, Va., made popular in the late 1970s. The only difference in the Hulls Unlimited version and Jenning's boat is that Jennings adds more chine to produce a higher spray rail to keep water off the helmsman.
Jennings has an order for another garvey that will go to a Long Island, New York firm to be worked in the oyster aquaculture cage fishery. He also has an order for a 36' standard deadrise fiberglass boat that will go to a Virginia recreational fisherman.
"The garvey hull has become my mainstay," says Jennings. "They can be used effectively in so many different inshore fisheries and are a very popular style of boat."