With the average age of U.S. fishermen in the 50s and trending upward, young people are the lifeblood of the industry. Programs to support young people in fisheries have been launched and lauded on every coast. But for some young folks it's hardly necessary. They can't be stopped. When they look at the harbors and the sea, they see "opportunity" writ large, and they are going for it.
Elijah Brice of Eastport, Maine, is among them. Brice's family moved to Maine from New Jersey when he was 7 years old, and he took root like a native plant.
At age 15, Brice got his student lobster license and 150 traps. His father helped him buy a 20-foot outboard. "I did about all I could with that boat," Brice says. "I snapped the davit off twice, one time up in the falls, I was hung down and the tide was running and it was pulling us down. My rope cutter blade broke, I couldn't get to my other knife, and then the davit just snapped. I said, you can have it. I was lucky." A teenager pushing the limits with a 20-foot outboard in an area with 27-foot tides has to be lucky, the reversing falls of Cobscook Bay have eaten bigger boats than his.
Now with 400 traps and gaining 100 every year, Brice has realized he needs to grow his boat if he wants to carry on in the fishery. "Butch Harris had this hull, and I bought it off him. It was built by a guy named Dana Hunter in Tatamagouche, in Nova Scotia. I'm not sure when."
Like Brice, Butch Harris grew up working on the water and has owned a number of boats, including the hulk he sold to Brice. "It was a tour boat over on Campobello," Harris says of the 32-foot fiberglass Novi hull. "They let it go. The engine was not good. Elijah took it down to nothing but the hull."
Originally the Miss Kim, Brice renamed the boat as Perseverance, and rightly so. In December 2019, he moved the hull into a shop Harris owns. But before he could begin working, he had to have hernia surgery. "I started on March 1st," he says. "I took off the old cabin, and the old deck. They had a 14-inch step up into the cabin! And the cabin trunk was so high, I couldn't really see from the wheelhouse, so I took that off, too."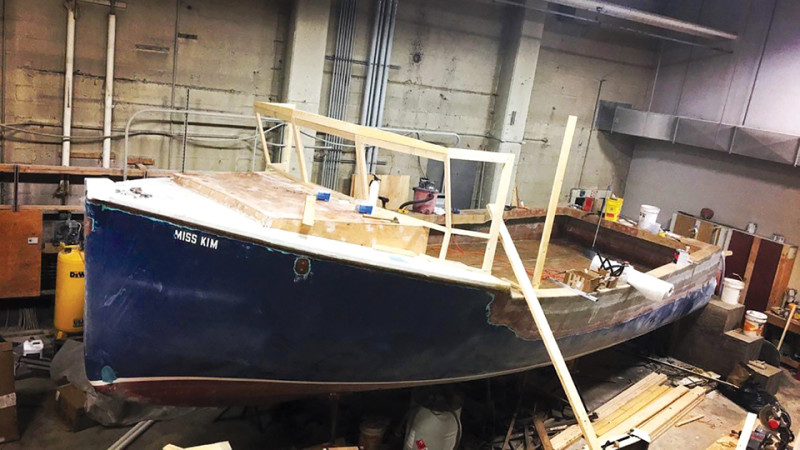 Brice stripped the vessel down to virtually nothing but the skin of the hull, as it was when it came out of the mold. Then Brice had to design the boat he wanted, starting with the wheelhouse.
"I went up to Cape Breton Island," says Brice. "There was a guy there with this same hull and a wheelhouse I liked. So I just measured it and built it." Brice added some touches of his own. "I added the overhang forward, and I extended the port side wall to give my crew more protection." Brice also cut away more of the starboard wall to give himself better access to traps coming aboard.