When California fisherman Shane Slaughter was fishing lobsters out of San Diego and preparing to switch to spot prawn, he started looking for a boat that would work. "I knew that trap fishing was going to be my thing, and I started looking for a purpose-built trap boat, and the place to find those is on the East Coast," says Slaughter.
In Monterey, another spot prawn fisherman, Adam Aolotti, was running his traps with a 48-foot Dixon, built in Lower Woods Harbour, Nova Scotia. "I was on his boat," says Slaughter. "I realized that's what I wanted."
In 2014, Slaughter flew east and started searching for his boat. After driving through New England and seeing plenty of boats, he made his way to Nova Scotia. "I went right to the Dixon yard and told them I was looking," he says. After a few weeks, someone steered Slaughter to a retiring fisherman who had a 42-foot Dixon that he might sell. "It was 20 years old," says Slaughter. "It's like they walked away on their last day. There was even old bait still on board."
Slaughter emptied the boat of everything unnecessary, hauling it all to the dump in a rental car. "We sea trialed the boat and made a deal," he says. Then he steamed to Maine and organized transport of the 15.5-foot wide vessel to California. "It cost me over $30,000," he says. He then spent 100-plus 15-hour days overhauling it into the rebuilt Hiro Maru.
"I took out everything aft of the engine room bulkhead," says Slaughter. "I reconfigured the deck and put in 4 live wells. The original had a 200-gallon fuel tank, I increased that to 550 because we make longer trips."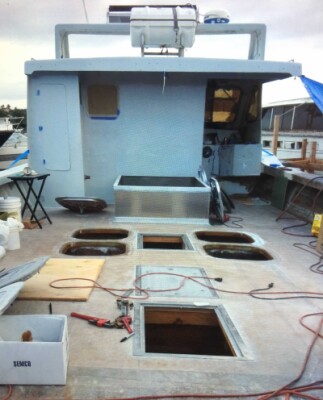 While Slaughter appreciates that the East Coast boats are fairly consistent in design, he had to make some changes to the hauler setup because he fishes with just one crew member, and the boat was originally set up for three.
"It's got a 14-inch Hydroslave hauler that was set up for one of the crew to run. We moved that up to the wheelhouse bulkhead the way a lot of the lobster boats have it, so that I could run it." In addition, Slaughter had to beef up the hydraulic system with a direct drive clutch to give his hauler enough muscle to lift a string of prawn traps from as deep as 150 fathoms and run his refrigerated seawater (RSW) system.
"It's a 12-ton system, which is big for this size boat, but you have to keep shrimp at 33 degrees and you have to get that temperature down fast." Slaughter put together his own RSW, with a mix of components, including an IMS chiller, a Carrier compressor.
After running the boat for four years with its original 6068 John Deere, Slaughter took advantage of California's generous subsidies to help fishermen repower with Tier III engines. "I got a 300-horsepower Cummins QLS9 from Tony Athens up in Oxnard," he says. "The Carl Moyer Program pretty much paid for it all."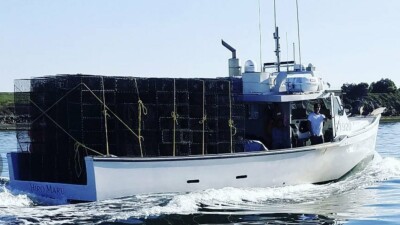 Living aboard for five-day stretches, Slaughter also overhauled the fo'c'sle. "We put in an extra bunk in case we need an observer, and a new galley," he says. "We also extended the wheelhouse and put in a hot shower. Before that we were showering on deck with the deck hose, which is pretty cold when its 50 degrees out."
He also upgraded the electronics. "The boat came with an old Hondex up and down meter, and a Furuno GP32. We used that for a while, but now we have all new from Honor Marine here in San Diego. We have a Furuno up-and-down meter with chirp transducer, but we mostly rely on the TimeZero bottom builder. It's like a video game, we just lay the strings down along the bottom. It almost feels like cheating it makes to so easy."
Slaughter is far from alone in coveting an East Coast boat for a California trap fishery. Further north in Santa Barbara, former Bristol Bay salmon fishermen Chris Dabney is running a 32-foot H&H built in Steuben, Maine.
"A few years back, my father let me know he was retiring and asked me if I wanted to take over his lobster permit," says Dabney. "I said, yeah. But at that point he was using a skiff to haul about 50 traps. I figured if I was going to do it, I wanted to got harder than that." According to Dabney, East Coast boats are very popular among Channel Islands fishermen. "Almost everybody has one" he says. "It's an amazing work platform."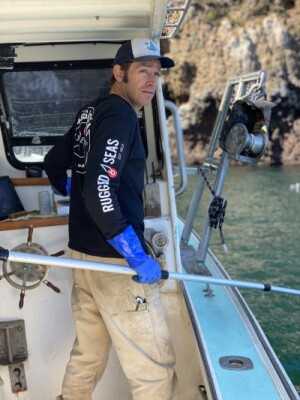 Like Slaughter, Dabney took some time off to go East and hunt for a boat. "I got in touch with a broker, John Moran at Athearn, and he put me in touch with a guy in Dennis, Massachusetts," says Dabney.
Dabney was looking for a smaller boat that would be less costly to ship, and Moran steered him to the F/V Joseph Warren. "The owner was a part-time fisherman who also taught history at a local college," says Dabney. "Joseph Warren was a lesser-known Revolutionary War hero."
Dabney bought the boat in the summer of 2019 and had it trucked out to California a few weeks later. "The guy charged me $12,000. He hauled it on a trailer with a 1-ton Dodge dually. It was pretty much turnkey when it got here," he says. "I went through it, went through all the systems, put in a new stern bearing, put new packing in the dripless stuffing box, new bottom paint. I was able to fish the 2019-2020 season with it."
The vessel came with a 280-hp Iveco engine that moves the Joseph Warren along at up to 11 knots. "It's been a good engine," says Dabney. "But the California Air Resource Board has a program out here that will pretty much pay for a new engine. I'm thinking we will repower soon with a Cummins."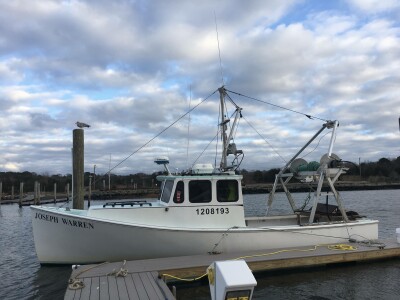 Fishing 300 traps with a 32-foot boat means at least 8 trips for Dabney to set gear out at the beginning of the season. "I can fit about 40 traps on," says Dabney. "I can usually get out, set a load and come back in and get loaded for the next day." This past year was particularly difficult though.
"We had some crazy weather," says Dabney, who had several traps in shoal water get smashed up onto the beach. "We didn't fish the weather. We baited up good and moved gear out into deeper water. The longest soak was 2-weeks."
According to John Moran Jr. at Athearn Marine Agency in Fairhaven, Mass., the market is strong for lobster boats going West. "We were the first to do it," he says. "I don't know how many we've sold. I lost count after about 25. Just last month we sent a 38-foot Duffy out there, and we're getting a 36-foot Wayne Beal ready to go."
Moran has sent boats as big as 46-feet to the West Coast by truck. "Bigger than that they go on a ship or on their own bottom," he says. "If they can get to this side of the Cape [Cod], we put can put them on a barge that takes them around and sets them loose in the Pacific."