Like many of the big jet makers, NamJet has spent much of the last few years cashing in on the shift from propellers to jets in Bristol Bay. Phil Organ, NamJet's director of business development, estimates his company has around 130 bay boats with his company's jets.
"That's been our go-to for a while now. Over the last eight or 10 years, waterjets have almost become standard up there. Most of them that I've done are 730- or 750-horse, but they go all the way up to 800-horsepower," Organ said.
Organ added that a large part of NamJet's bay projects have been 24-inch, single inline jets paired with Scania or Man engines. Another staple for NamJet in the past years has been seine skiffs for Alaska's salmon fleet.
"We have so many seine skiffs in Alaska with our jets that I've lost count," Organ said.
But while NamJet continues to supply Alaska, they have branched out into other niche fisheries, most notably the menhaden fisheries in the Gulf of Mexico and Chesapeake Bay.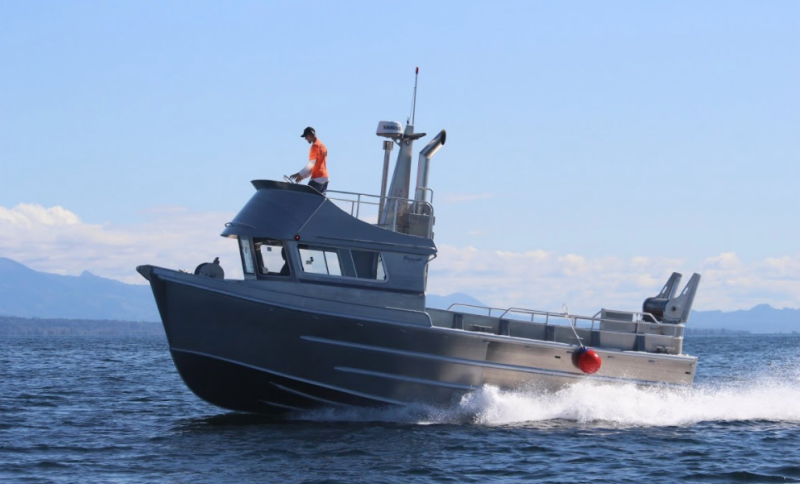 The menhaden fishery uses two seiners, typically 44 feet long, that ride on the back of large steamer, then roll out to scoop up schools of fish that are then pumped onto the steamer. The seiners have traditionally been fitted with caged propellers, but fishermen suspected the props were spooking the fish.
"There was some thought that the jets would be quieter and not disturb the pods of menhaden, and it has proved a fact. The waterjets just don't give off a noise signature that bothers the fish," Organ said.
The jets also allow the seiners to get up to speed quicker, which allows them to get from the steamer to the fish more quickly, and then shortens their circling time when the boats circumnavigate a pod of menhaden.
NamJet is also trying to crack the market for Alaska combination seiners. Organ added that company is also having conversations with Dungeness crab fishermen who fish California's kelp-laden waters.
"They have a trouble with the kelp and the waterjets do well in kelp. The reason they're exploring it with us is because our jets operate at a lower RPM. Plus we have a device that protects kelp from wrapping itself around the shaft of the jet," Organ said.