Eugene Peltola Jr., 57, husband of Alaska Democratic Rep. Mary Peltola, died when the Super Cub bush aircraft he was piloting crashed after takeoff Sept. 12 in a remote mountainous area in southwest Alaska, federal officials said.
In a brief statement, Peltola's Congressional staff said she was returning to Alaska to grieve with family.
In the statement posted on Twitter, her chief of staff Anton McParland said of Eugene Peltola – known as Buzzy to friends and family:
"He was one of those people that was obnoxiously good at everything. He had a delightful sense of humor that darkened the lightest moments. He was definitely the cook in the family. And family was most important to him."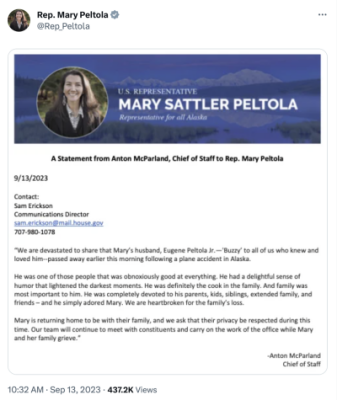 Peltola had just transported a hunter and his equipment to the site, 64 miles northeast of St. Mary's, Alaska, and was piloting the single-engine aircraft alone when it crashed at takeoff, said Jennifer Homendy, chair of the National Transportation Safety Board, in an afternoon video briefing for news reporters.
"We have some preliminary information…it can change over the next several hours," said Homendy.
A 406 emergency notification beacon on the Super Cub activated at 8:48 p.m. Alaska time and its signal was received by the Alaska Rescue Coordination Center, said Homendy.
"The plane appears to have crashed on departure," and there were reportedly witnesses, she said. An investigative team including the NTSB, Federal Aviation Administration, and representatives from Piper Aircraft and engine manufacturer Lycoming were expected to arrive in Anchorage, Alaska, Thursday morning.
The investigation is being coordinated with the Alaska Air National Guard to arrange transport to the crash site, where the team will document evidence and interview witnesses, said Homendy.
Peltola, who worked for more than 34 years with the U.S. Fish and Wildlife Service, was of Yup'ik and Tlingit descent and in 2018 was appointed regional director for the Bureau of Indian Affairs in Alaska. He was a former vice mayor and city council member in Bethel.
Mary Peltola started her political career representing Bethel in the Alaska state legislature before winning the state's sole House of Representatives seat in 2022, becoming the first Alaska Native female member of Congress.
Peltola served on the Kuskokwim River Inter-Tribal Fish Commission in Alaska, and has been an outspoken advocate for managers to better incorporate traditional and indigenous knowledge in their deliberations and decision-making.
In a statement Alaska Republican Gov. Mike Dunleavy said he and his wife Rose "are shocked and deeply saddened by the passing of Gene Peltola.
"He was our neighbor in Kotzebue decades ago and our paths continued to cross to this day. I knew Gene as a man who loved his family and put family first. He was smart, funny, hardworking and one of those guys you just enjoyed meeting up with. He dedicated his career to public service. Whether he was working for the U.S. Fish and Wildlife Service, serving on the Bethel city council, or speaking with state legislators, Gene always worked to ensure government worked for Alaskans."