Alaska's commercial salmon fishing fleet had its second biggest week of the season, following the peak of the Bristol Bay sockeye season during the week of July 4. The cumulative statewide salmon harvest is now 7 percent above the same period in 2020 (2019 for pinks). Sockeye landings are still carrying the banner at 113 percent of projections. But overall, the landings are closing in on 80 percent of projections for all species across all districts.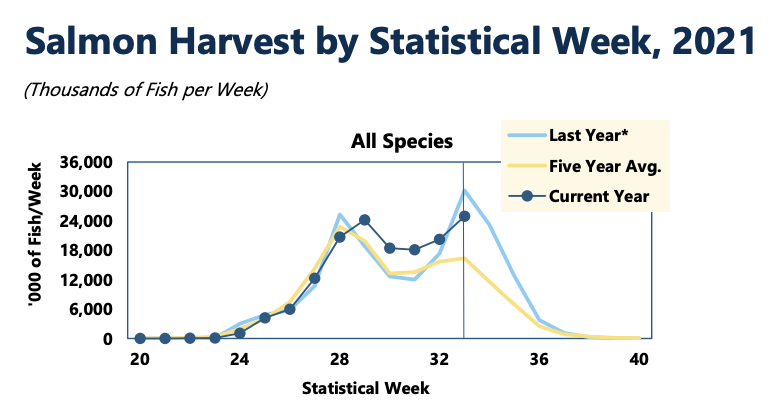 Pink salmon harvests are up about 40 percent in Southeast Alaska and Prince William Sound compared with the last big return year of 2019, "a welcome boon for seiners (and bears) in those regions," according to Dan Lesh of the McKinley Research Group in a weekly report prepared for the industry via the Alaska Seafood Marketing Institute.
For the first time this year, the week's keta (chum) salmon harvests exceeded the five-year average. The cumulative keta catch is up 25 percent from last year, but still just above half (down 48 percent) of the five-year average. The brightest keta salmon spot last week was in the Alaska Peninsula area , where the harvest is now up 77 percent from last year. The peninsula is still lagging behind on pink returns compared with the 2019 season.
Harvest totals for the Chignik area are not disclosable because of limited participation. The late sockeye salmon run in that area is exceeding expectations, but few boats have remained in the area, according to the Alaska Department of Fish and Game's Inseason Alaska Commercial Salmon Summary published Friday, Aug. 13.
Meanwhile, the Bristol Bay Regional Seafood Development Association is reporting that preliminary data indicates a Bristol Bay sockeye harvest of 40.4 million fish worth a base ex-vessel value of $231 million.
"This value will increase as quality premiums and potential price adjustments are added," the organization reported.
The state of Alaska also recently released an estimate of net processing revenue earned from the 2020 season. After payments for fish, the processing sector grossed an estimated $314 million from selling Bristol Bay sockeye caught in 2020, up 50 percent from $209 million in 2019.