Grundens threw quite the Cappy Hours at this year's Pacific Marine Expo (PME) on Wednesday and Thursday of the show. They offered beer, hats, and a Yeti cooler filled with both Grundens and Yeti swag throughout all three days of the expo. Though the beer and hats were free, they were accepting donations to raise money for the Alaska Bering Sea Crabbers (ABSC). PME generously matched the funds raised during both the Cappy Hours and Grundens x Yeti Raffle. They ended up raising $2,860, which comes to a grand total of $5,720 for Alaska Bering Sea Crabbers.
ABSC is a non-profit organization seeking to provide economic stability to the crab industry and Alaska's coastal communities, promote safety at sea, and produce premier crab products for American and global customers. They have been actively involved in all aspects of crab fishery research, sound management, and marketing. They are tireless advocates for the Alaska Bering Sea crab fisheries and continue to make positive impacts on the fishing fleets and families that depend on these fisheries for their livelihoods.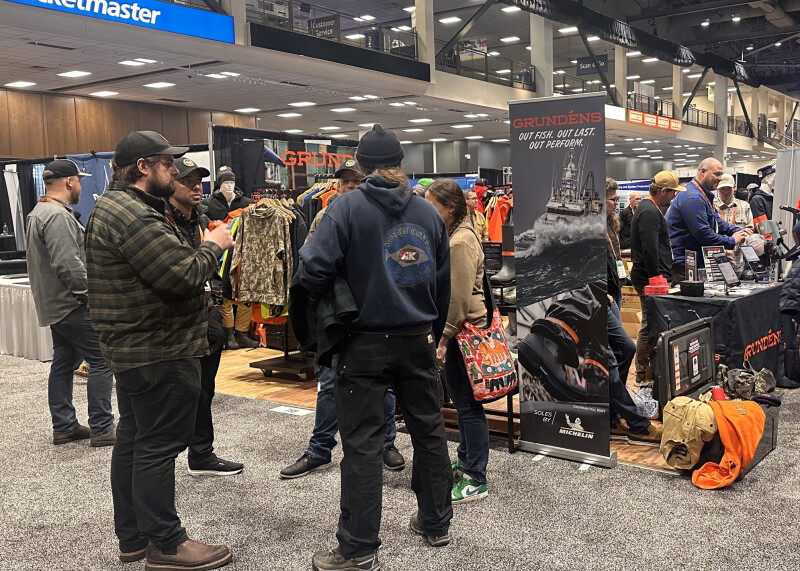 Due to the impacts of the Alaska shutdown of the crab seasons after dismal survey results, Alaskan fishermen and families need further community support. The Alaska Department of Fish and Game canceled all opilio snow, red king crab, and blue king crab seasons for 2022-2023, in a devastating blow to North Pacific fishermen and processors after trawl surveys showed a continuing crash in abundance.
The announcement came out in October 2022 after Bering Sea crabbers had pressed the North Pacific Fishery Management Council during its October meeting to do more to reduce crab bycatch in trawl fisheries. Busch Beer held a bar crawl for the Alaska Bering Sea Crabbers called Cans for Crabbers on Friday, November 10, in Ballard, Seattle, which began at Bad Alberts, followed by Lock & Keel, and lastly, Shingletown to raise money for the organization further. It was a good time with fun raffles at each pub location with the Bering Sea Crabbers and PME attendees in attendance.