Another Maine fishing family is banding together to Save Maine Lobstermen, this upcoming Sunday, May 7 at 2pm, located at The Elks Lodge #188 in Portland, Maine.
In this special entertainment event, music, comedy, and lobster will be brought together to celebrate Maine's lobstering heritage. All proceeds from this event will benefit Maine lobstermen through the Maine Lobstermen's Community Alliance, a Kennebunk, ME non-profit organization that supports the Maine Lobstermen's Associations' Save Maine Lobstermen campaign.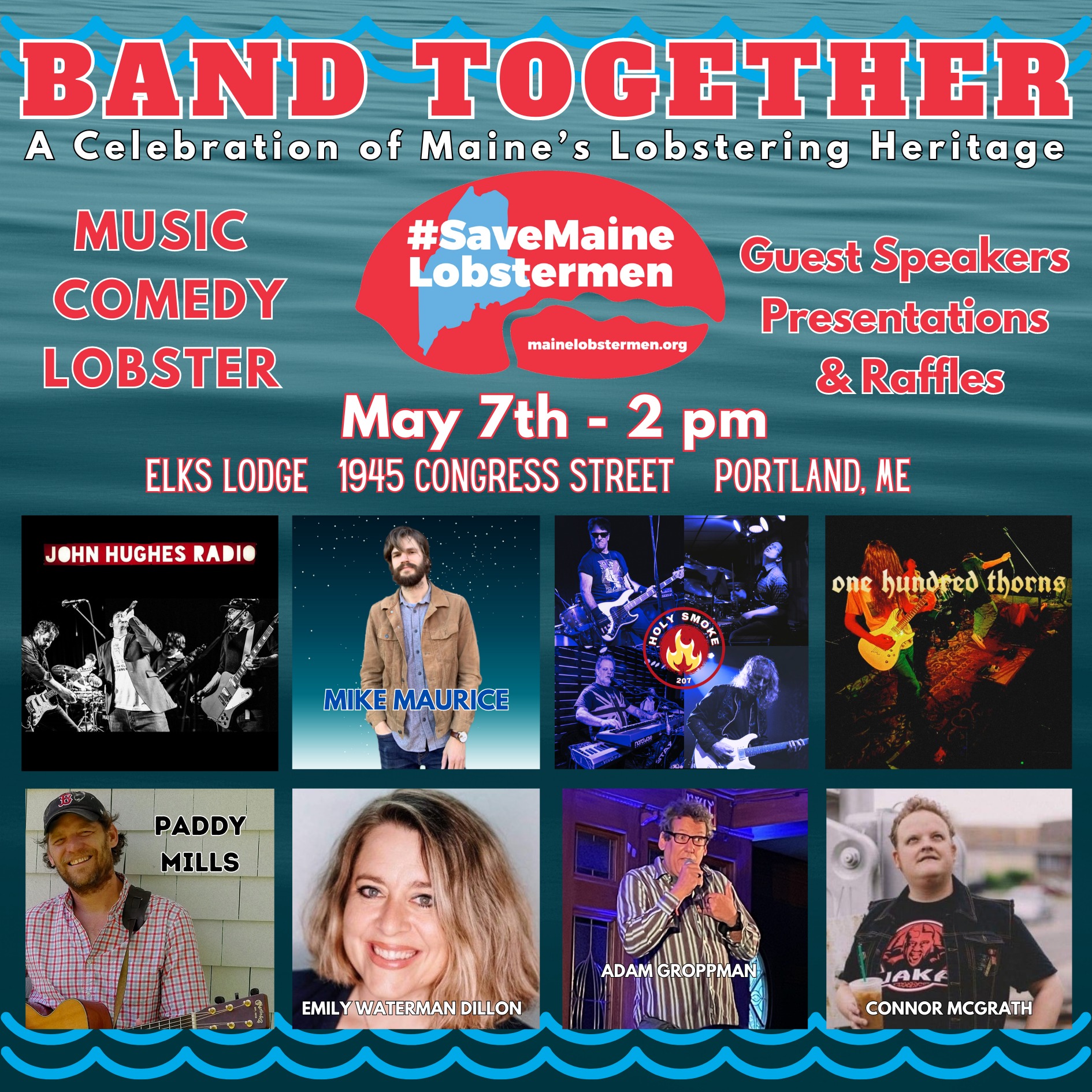 Musicians such as Holy Smoke, One Hundred Thorns, Paddy Mills, John Hughes Radio, Mike Maurice will be performing at the event as well as comedians- Emily Olga Dillon, Adam Groppman, and Connor Mcgrath.
There will also be special raffles and a loud auction to help raise more funds.
Tickets are available to purchase through Eventbrite for $20 and available day of show at the door for $25.
The event sparked from Todd and Lisa Erickson trying to find a way to not only support their lobster fishing son, Eliot, but also support the Maine lobster community as a whole.
Todd, being the bassist and singer for the band Holy Smoke knew that he could bring what he does best to help support his son- rock on.
Todd joined his first band in highschool at the age of 16, the same age Eliot declared he wanted to be a lobsterman.
Eliot, the 22-year-old lobstermen has been fishing on his own boat since he was a teenager, and shared with NF that this event will help support the unpredictable livelihood that him and so many other young lobster fishermen in Maine have chosen, but also help inform those not so aware of the issues the lobster fishery is facing.
Since the 1850s, Maine lobstermen have ensured self-regulation within their fishery to create sustainability. Lobstering is a way of life for all fishermen that have made the choice to do it as their occupation, and these hardworking men and women hope to pass on these traditions to the next generation.
With ongoing pressure of federal regulations, blacklisting from environmental groups, and daunting offshore wind plans in effect, Eliot does not know what to expect for the future.
"I go out fishing because it's what I love to do. I want to do all I can do to help preserve this way of life and see if go on for generations to come." He shares.
"If one thing comes of this event, I hope that it helps inform those that aren't seeing these pressures firsthand."
Many lobster fishing families, and local Maine businesses have come together to throw events since the beginning of the Save Maine Lobster campaign back in November 2021, such as DuraBrite Lights, Rugged Seas, Island Lobster Company to name just a few.
Lisa shared, "the purpose of this event is to get a very consumer friendly message in front of the larger audience in Maine and beyond in order to help people understand the battle that the Maine's lobster industry is facing. The way of life here in Maine we all benefit from relies largely on Maine's Lobstering community, its working waterfronts, and the historic character and charm that continues to make Maine the way life should be."
The Maine lobster industry provides more than 22,000 jobs to the state of Maine, including commercial fishermen, their help, and providers for all necessary equipment.
"The industry contributes more than $1 billion directly into Maine's economy each year, but the ripple effects go even further," Kevin Kelley, the director of advancement for the Maine Lobstermen's Association shared in an interview with NF back in March.
"Lobster is the backbone of our rural, coastal communities as fishing families spend their income purchasing boats, traps, gear, vehicles, and supporting local businesses and charities. Lobster also drives Maine's tourism economy as millions of visitors visit to eat lobster in restaurants and stay in hotels."
Band Together will surely draw a crowd with the two-time Maine Comedian of the Year, Connor McGrath moderating the event.
"Music is the one thing that brings people together, and the comedians will help us heal with laughter." shares the Erickson family. "We thought of no better way to celebrate Maine's lobstering heritage than sharing fresh lobster rolls and local brews while enjoying music and comedy also made here in Maine."
Come join the Erickson family and others from the lobster fishing community for a lobster roll, local beer, music, and laughter!
If you can't make the event but still want to support Maine lobstermen you can donate to the cause, and shop to support through the Maine Lobstermen's Association.