If longtime New Hampshire groundfisherman Dave Goethel were an I-told-you-so kind of guy, this would be his moment.
Goethel, a 2004 National Fisherman Highliner, was the plaintiff in a 2015 lawsuit, subsequently joined by Northeast Fishery Sector 13, that opposed NOAA's requirement that fishing vessels pay upward of $700 per day for at-sea monitors.
The case was dismissed. A federal court said it should have been filed within 30 days of the observer program's creation, not 30 days after NOAA later decided to charge fishermen.
Goethel's appeal was dismissed as well.
If the courts got rid of his lawsuit, they couldn't get rid of Goethel. Now retired, his name is on an amicus (friend of the court) brief in the Supreme Court case of Loper Bright Enterprises, a family-owned herring fishing company that is raising the same issue Goethel raised.
The issue as most of us relate to it is whether the Magnuson-Stevens Act implicitly grants NOAA the authority to compel fishermen to pay observer salaries. The underlying question, however, is how much leeway a federal agency has when implementing laws passed by Congress.
It's the latter issue that has attracted the attention of high-profile libertarian think tanks like the Competitive Enterprise Institute and the Cato Institute, among others — groups whose names don't necessarily spring to mind in the context of fishery management.
Although independent fishermen are overwhelmed by the thought of additional, $700-a-day mouths to feed, the think tanks and other industry supporters see the issue as overreach by a federal agency. Their reasoning is that if Congress wanted the industry to pay observers in the herring fishery, it would have said so in Magnuson.
Past courts have deferred to federal agencies' interpretations of ambiguous or unclear statutes. This is what's known as "Chevron deference," after a 1984 case, and it's here that NOAA has hung its hat.
The fact that the Supreme Court took this case on suggests that Chevron deference is a waning judicial concept or that in the very least, it's wrongly applied here, given that Magnuson-Stevens made a point of providing for observers in other fisheries.
In those fisheries, observer salaries are capped at 2 percent to 3 percent of the value of the catch, a rate that presumes that Goethel was capable of stocking $23,000 to $35,000 a day aboard the 44-foot Ellen Diane.
That ain't just fishing, folks. That's catching!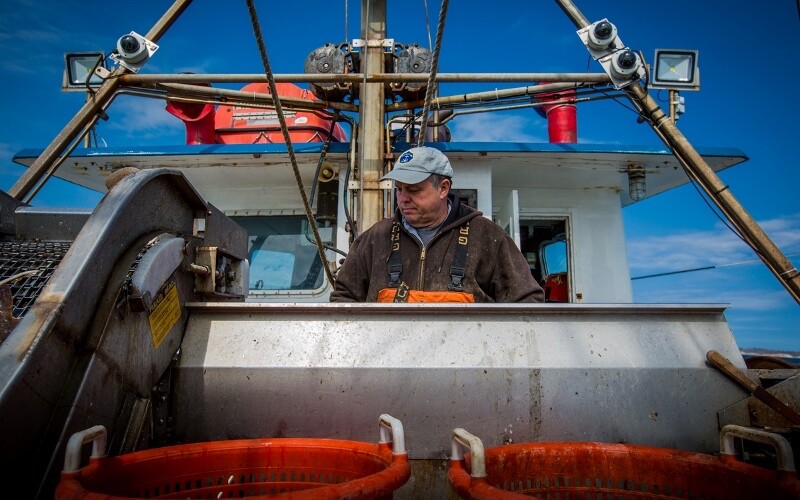 Lawyers before the Supreme Court have limited time to make their case and must stay focused. I have a little more latitude, so I will stray beyond the issue of "Chevron deference" and say that I have never been convinced of the value of observers.
In the first place, they are expensive — which is why NOAA decided it could no longer afford to pay them and announced it was passing the cost onto fishermen. No one questions the value of data. Indeed, Goethel says he has no problem with having well-trained observers gathering biological information.
Even so, between trip tickets, digital cameras, vessel monitoring and other tools, to say nothing of engaged crews, there's plenty of valuable data available to NOAA, including from its own vessels.
Second, observers are obtrusive. Fishing vessel quarters are cramped. Privacy is hard to come by. William Bright, 40 years a fisherman and now a plaintiff, recalled asking fishery council members if, "starting Monday," they would like to have observers in their office, regardless of who paid for them.
"Raise your hands," he said.
"We had a grand total of zero raised their hand."
Finally, implicit in the observer program is the notion that fishermen as a group can't be trusted to report bycatch, resist high-grading, refrain from pre-sorting, and so on; in other words, that they are sneak thieves indifferent to resource health. It ignores the fact that given the challenges they face, today's fishermen are in it for the long haul.
"At-sea-monitoring is a complete waste of money and infringes on my civil liberties," Goethel says. "There are far more effective ways to catch the small number of lawbreakers."
It's appropriate that debate over the reach of bureaucracy may settle on commercial fishermen. I can think of no other industry in which the government is so intricately involved with individuals who generate what in the scheme of things are trifling sums.
Of course, the ultimate cost of what some refer to as the administrative state isn't reckoned in dollars and cents, but in lost enterprise and diminished liberty.
Goethel was represented by Cause of Action Institute, which advocates for economic opportunity and limited government. Cause of Action now represents Loper Bright. "Perseverance is a virtue," says Goethel, who, if retired, remains a true believer in his cause. "I will feel vindicated when the Supreme Court rules that Congress writes the laws, and the bureaucracy obeys them."