April 2, 2020
REDE Rescue Systems Empowers Water and Ice Lifesaving for Minimally Trained Rescuers
REDE
Over 70% of US fire departments (mostly rural) are volunteer and about 50% are not trained in technical rescue such as is demanded in water and ice rescue. In Maine, about 80% of the fire departments are manned by volunteers. According to a 2014 World Health Organization (WHO) report, drowning is a neglected global health issue with 372,000 deaths annually. Falls overboard are the second leading cause of death for commercial fishermen according to recent studies by the National Institute for Occupational Safety and Health (NIOSH).
Firefighters are 4 times more likely to die during a water rescue than while fighting a fire. Floods kill more people than any other natural disaster in the United States. Public safety departments and those that work on the water have to deal with emergency water situations that they too often don't have the training or equipment to properly handle.
While water and ice rescue is low frequency, it is nonetheless a very high-risk operation. That's why there is need for intuitive products to lower risk to minimally trained responders and increase probability of lifesaving. That's why the REDE Rescue Systems technology was created. REDE stands for "rapid extraction from dangerous environments" and pronounced "ready".
How does REDE Rescue System technology work?
REDE Rescue Systems designs are patented safety and rescue systems for emergency first responders, recreational, and commercial marine markets. The intuitive operation and low-cost nature of the launched rescue products are designed to increase lifesaving capabilities by novice rescuers. The product can assist rescue agencies in meeting several requirements of National Fire Protection Association standards 1006 and 1670 for technical rescue.
How exactly does the prototype system work? By utilizing several options reviewed in the descriptions below. All of these cartridges may be swapped out in under 5 seconds and the maximum range of around 200 feet is statistically within the distance of most rescue situations.
Buoy – Uses unique lightweight qualities of a mechanically actuated flotation device to keep launched mass low to minimize recoil and virtually eliminate injury to a rescue subject by an inadvertent strike.
Line – A high tensile strength single line attached to a buoyant chemically lighted baton that turns on upon launch and a grasping loop to establish a rescue line to a subject in the water, on another vessel, etc.
V-Snare – This is 2 high tensile strength lines launched simultaneously at an angle to each other interconnected at the downrange end. Launched lines open in a "v" shaped line loop that can be dropped downrange over a victim in the water, a person dropped through ice, or to "snare" a vessel or an object onshore from a vessel. It can be used as a messenger line to pull a larger line by a single rescuer since they have control of both ends of the line. It is envisioned in the "self-rescue device" described later, a person overboard would utilize a similar payload to "snare" something on a vessel (or the shore) to aid in self-extraction from the water.
Net – An animal capture device. May have little relevance to rescue, however small net systems have been used for on-water capture of waterfowl, research fish collection, etc.
Hook – A grapnel type device to possibly aid boarding a vessel, capturing a vessel or floating object, and aid high angle rescue on land.
Bola –A multiple line entanglement device that was designed for large animal capture by entangling the legs, very similar to what the South American gauchos used, but without the skill necessary for deployment. I envision incorporating an alternate tethered version in the "self-rescue" device to snare rigging on a vessel or the shore.
Ballistics – Demonstration of a "non-lethal" flying ring airfoil device that is intended for self-protection from dangerous animals (or people). Not for rescue.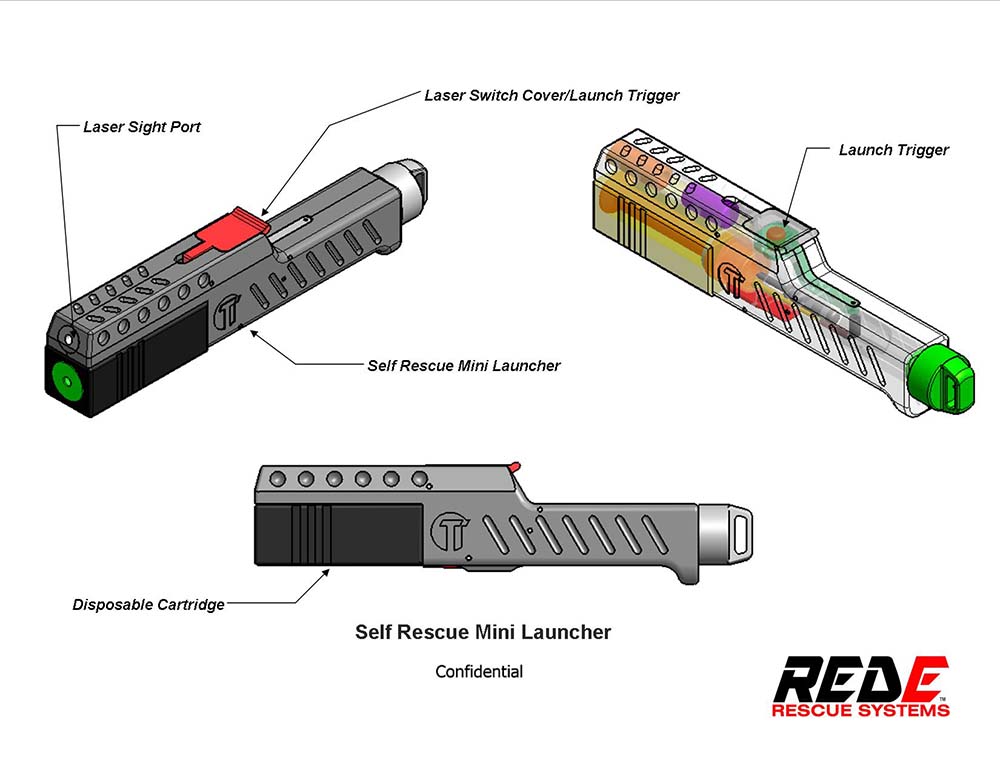 Who would use the REDE Rescue System technologies?
As the world's first easy to use multi-payload deployment system, the REDE Rescue System technologies could be employed by various groups and novice rescuers. Rural fire and law enforcement first responders, commercial marine, and groups lacking full-time technical rescue teams could have rescue capabilities increased with the technology. The "self-rescue" system could be utilized in commercial marine by fishermen, workboats, and recreational users such kayakers and sailors. The mechanically actuated flotation technology has applications in a variety of marine safety and rescue applications.
Training would be minimal as rescue has to be intuitively deployed in high-stress situations. The idea is to take most of the expertise and training demands out of a rescue. To prepare for use, a video should be sufficient and it is the intent to provide "training" cartridges for live training. A study from Australia on hand-thrown lifeline rescue for water rescue was a real eye-opener. An average "trained lifesaver" rescue in the throwing exercise took over 10 seconds and the world record is about 9 seconds. And this was only throwing a 55 ft. rope. A person can be out of range in that time on a moving vessel or in swift water. An untrained person in a high stress exercise only had about a 20% chance of success of reaching the victim.
The REDE Rescue System technology compares favorably to other rescue options that are currently available to fire, police, and maritime business. You can weigh the benefits of each system via the chart below.
With virtually no training needed, the equipment is expected to be priced within discretionary budget limits of agencies and within reality for commercial marine operators. Adaptable to varying rescue scenarios, REDE Rescue Systems' goal is to increase lifesaving by embedding the skill in the devices and not impede the user with complex actions during high-stress situations.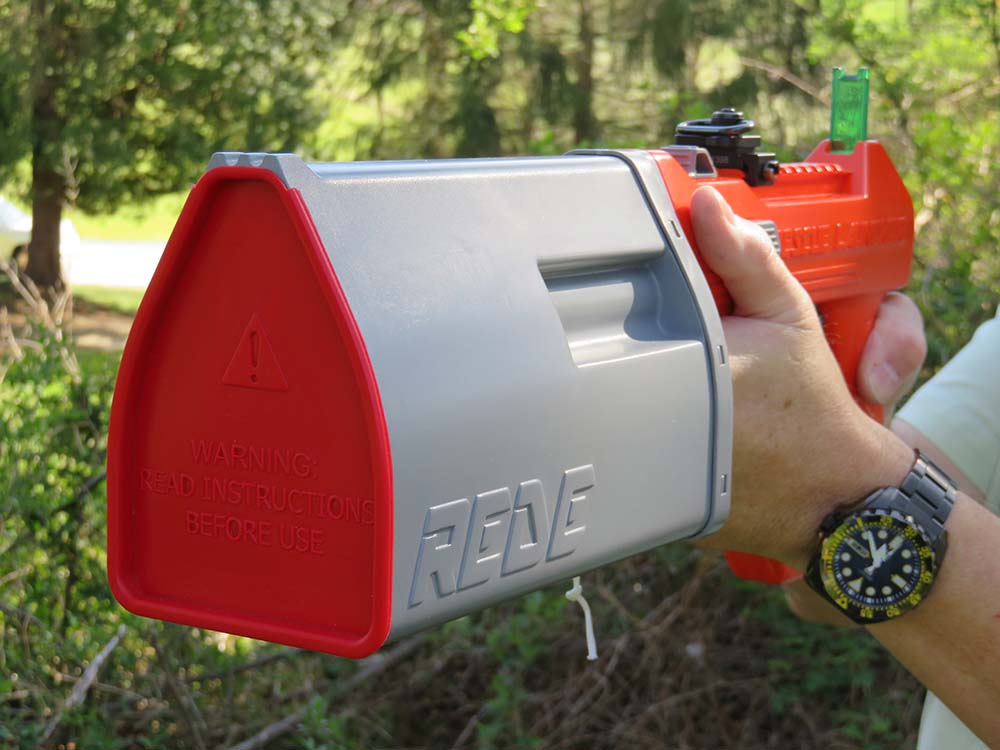 Experience and Expertise
You might wonder where the idea for the REDE Rescue Systems technology came from. While it all stems from recognizing the need to create tools that would minimize risk to responders and increase the probability of lifesaving, the true genesis goes back much further.
My father died when I was 11 yrs. old so it was always on me to keep things repaired for my mother. Because of that, my native mechanical ability really blossomed when an "old school" gunsmith took me under his wing and allowed me to run machine tools when I was 12 yrs. old. From that experience, I designed and built three unique muzzleloaders in junior and senior high school. Not from kits. I eventually became fascinated with other applications of firearm technology.
The marine lifesaving systems slowly fermented out of animal chemical capture equipment that launched an automatic injecting syringe (commonly referred to as dart guns) I manufactured and marketed many years ago. I came up with a way to quickly vary the dart speed and gently inject it in an animal moving over a range of distances. I supplied the Canadian Wildlife Service special capture needles for polar bear research and USAID with chemical darts for an animal research project in Africa along with various animal control and wildlife agencies. One agency purchased over a hundred dart gun kits for their wildlife officers and researchers.
From the dart gun business, I developed a compact mechanical capture system that launched entanglement devices for animal capture. I found there was even interest for human capture and deterrent. The project was included in several National Institute of Justice technology seminars. I figured if I could deploy something as difficult to launch as a net, launching rescue lines and devices may be viable.
I discovered the water and ice rescue equipment market had some really complex, expensive, and unworkable systems to initiate a rapid rescue under stressful situations of someone in the water or on the ice. There was nothing very intuitively operated for a semi-trained or novice rescuer at a reasonable cost.
While the initial target for the REDE Rescue Systems water and ice rescue technology was public safety, I envision it being very applicable to various rescue situations in commercial marine. I also foresee a "self-rescue" system from the core technology in which a man overboard victim will be able to tow themselves to their vessel.
To make that a reality, I'm interested in locating partners or collaborators that share my passion and vision to commercialize the lifesaving technology. If you'd like to make a difference that can literally save lives, please get in touch.
Get in touch via email: [email protected]
Disclaimer: This article is about a rescue technology in development and REDE Rescue Systems LLC is currently seeking partners and collaborators to complete the commercialization. All videos and photos are of prototype systems and no products are currently for sale at this time.