Wooden boats are still a vital part of Chesapeake Bay's commercial fishing business. Although many boats are no longer fishing, they are symbolic of the days when the fisheries supported a massive wooden commercial fleet.
The challenge for fishermen and others who own wooden boats today is finding skilled craftsmen to work on the boats when they need major repair. The large boatyards and marine railways in Maryland and Virginia where repair and maintenance of wooden boats was a staple have for the most part gone away.
The immediate future of wooden boats on Chesapeake Bay lies in the hands of a few aging craftsmen who move about to work on boats. They are not always available or easy to find.
David Rollins, 73, of Poquoson, Va., is one of those few craftsmen left who has the skill to fix just about any part of a wooden boat. Rollins and his crew of two were working in June on the Linda Carol and 55th Virginia. These are classic wooden bay buyboats being made ready for the annual Chesapeake Bay Buyboat Association's Rendezvous that starts July 28 on Tangier Island, Va.
The boats were side by side at the Surf Rider Marina/Restaurant in Poquoson, Va., where Rollins is installing a new waist on the 55th Virginia and doing routine top work maintenance on the Linda Carol. The boats will be moved later in the month to York Haven Marina in Poquoson to be hauled out for bottom inspection and routine maintenance.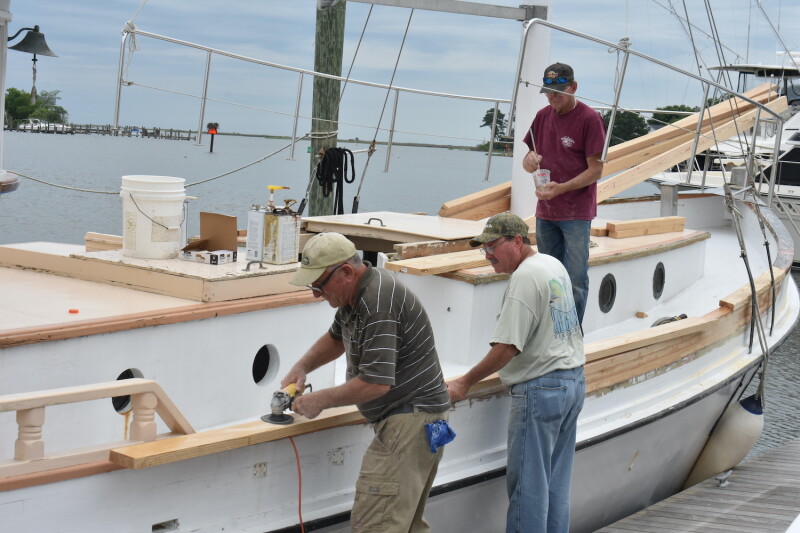 The Linda Carol was originally named Croaker and was built in 1931 by Alton and Lennie Smith of Mathews County, Va. It has been used in the pound net fishery, Virginia's winter crab dredge fishing and the oyster fishery. Today the Linda Carol is owned by B & C Seafood of Newport News, Va.
The 55th Virginia was built in 1971 by Grover Lee Owens and Billy Norton of Deltaville, Va. as a freight boat used to haul passengers and cargo from coal freighters to shore in Norfolk Harbor. It is owned by Bill Hight of Urbanna, Va.
Hight says Rollins is a "guru" when it comes to repairing and maintaining wooden boats on the southern bay. Rollins came from a family of boatbuilders and honed his craft when he owned and maintained himself the 56.4' x 15.7' Chesapeake Bay buyboat East Hampton, built in 1925.
"It is getting harder to find skilled craftsmen who understand and know how to work on every aspect of a wooden deadrise boat," says Hight. "I'm afraid the future of wooden boats lies in how long they are still around."
The annual Chesapeake Bay Rendezvous starts July 28 on Tangier Island and will move to Onancock, Va., on July 29-31; to Hudgins Horn Harbor Marina in Port Haywood, Va., on Aug. 1-2; to Smithfield, Va., on Aug. 3-5; and to Poquoson, on Aug. 6-7.