Elliott Bay Design group teams up with Cummins and builder Silverback
How do you build a Bristol Bay gillnetter that will go 20 knots with 20,000 pounds of sockeye salmon in the holds? As it turns out, it helps to have a collaboration. Elliott Bay Design Group and Cummins got together with Silverback Marine to design the powerful new boat, which is 20 feet wide and has three jets.
Ian Gracey, founder of Silverback, said the front end design collaboration is one of things that makes this project unique.
"It's kind of one of the first industry collaborations that we've seen in the Bristol Bay market where you've got Cummins working closely with Elliott Bay and us as the builder. The operator of the boat is going to have a very comprehensive support group," Gracey said at Pacific Marine Expo in Seattle.
At Expo, Gracey and David Turner, a naval architect for Elliott Bay, stood next to a model of the squat bow- and stern-picker, the space-aged tophouse hovering on the flying bridge over the expansive deck.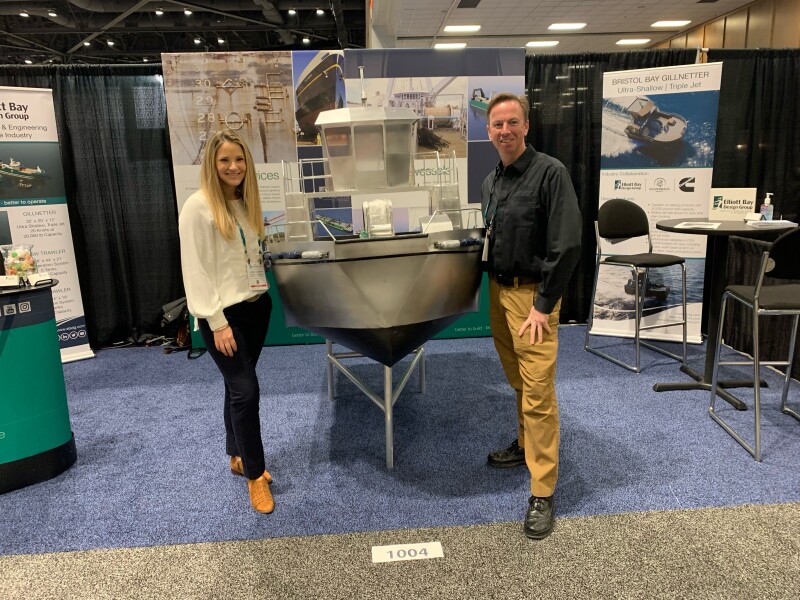 "It hauls a lot of weight very fast. For the productive fisherman that's looking for a strong return on investment, I think it's a brilliant platform," Gracey said.
The boat is spec'd for three Cummins QSB6.7 engines — 550 horsepower engines that run at 3,300 RPM — and three UltraJet 340 HT jets. Turner said the Cummins/UltraJet combination provides a good power to weight ratio, and the size fits well in the machinery space. The third engine, however, would be used sparingly, as would the third jet.
"Only the two outside jets are steerable. Most of the time, you're going to be using just these two outside ones, but that stationary middle jet will get you to the dock with fish onboard and get you back out fishing," Turner said.
Turner also pointed out that the boat runs very shallow, with a minimum draft of 22 inches. Even fully loaded, the boat draws just 32 inches, which means skippers can blast off the beach after scooping up a big set.
The boat is designed for a 10-ton hydraulic RSW system and has the capacity to carry 450 gallons of fuel. Spacious by bay standards, it includes accommodations for five crew, with amenities like a shower, sink, and head on the main deck. The galley and berths sit in below.
While much has gone into the design, Turner said Gracey and his crew at Silverback will work with potential buyers to give them that boat they want.
"Buyers will come in talk to Ian because he can deliver the boat in different levels of finish, from just the aluminum work to completely tricked out and ready to go fishing," Turner said.