I had no idea what to expect when attending the Seafood Expo North America (SENA) in Boston, Massachusetts (per usual, regarding the industry.) My eternal goal is to be a conduit for sharing stories from home, harbors, and the sea. To connect with as many commercial fishing people as possible to make them feel seen and heard through this incredible soapbox we have called National Fisherman magazine (and my blog for partners of commercial fishermen, meganwaldrep.com – shameless plug!).
I decided to attend because speaking at the Pacific Marine Expo last fall lit me up more than I ever imagined. Among the crowd of fishermen and their partners, I had found "my people." Solidarity, compassion, and empathy for a culture I now felt I truly belonged. Maybe I would find that in Boston, too.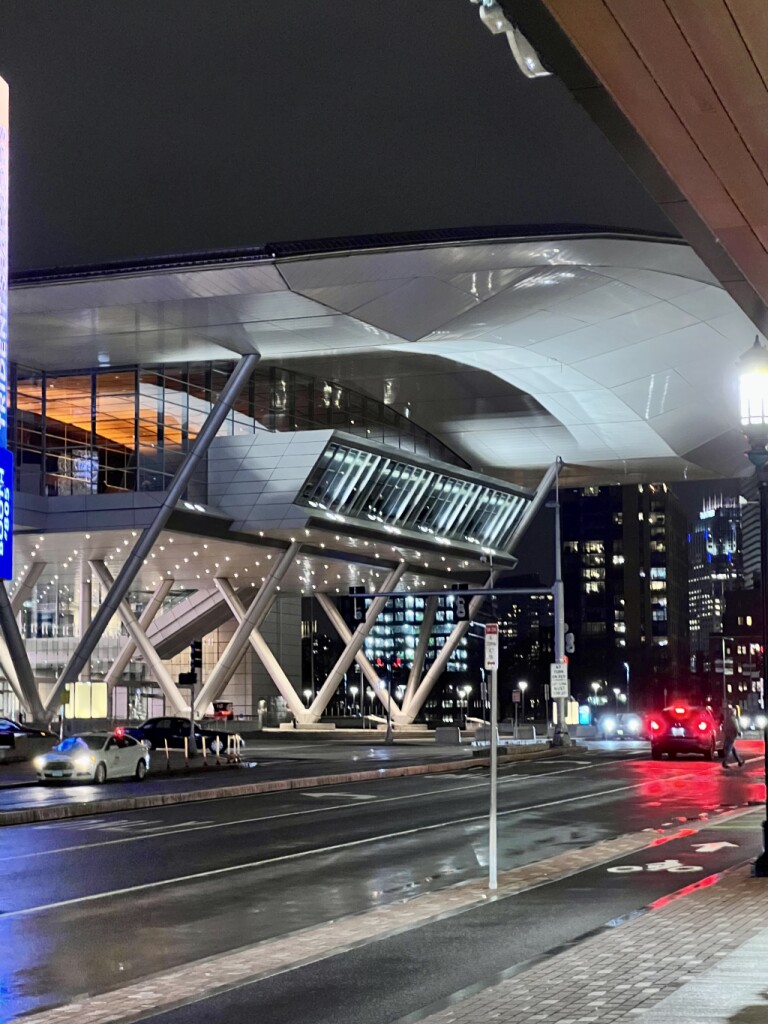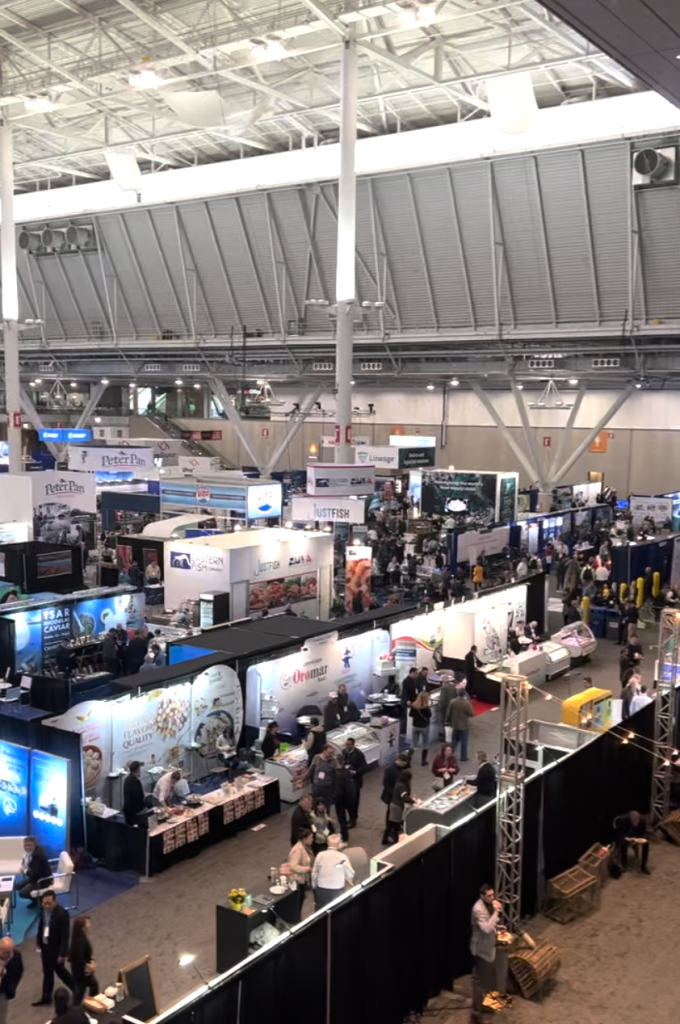 Luckily, I did.
"Our people" were present, yet few and far between.
There were many business suits, foreign markets, and languages from around the world. There were endless samples of seafood products – both wild-caught and farmed – with flavors that ranged from "this is incredible!" to "what the hell is this?" Most of all, there were many opinions, particularly regarding our trade. I know what you're thinking: What else is new?
I'm sharing what I heard on the convention floor, not as a trigger (though it may be) but as insider information of what people around the industry are currently thinking. What I've learned in therapy is to lean into the triggers; maybe we can learn something. So, if you're brave enough to press on, my advice is to take a deep breath and let's dive in:
"Commercial Fishermen Need To Use Ropeless Gear."
As you've probably read, the subject of whales and fishing is evident more than ever. Even if your fishery hasn't had a whale entanglement in decades (great job, Maine!) or your fishery is struggling, conservation groups will always breathe down our necks. (As if commercial fishermen aren't at the forefront of these efforts to preserve fisheries for future generations and to save thousands in gear, but that's another story we know to be true.) Generally speaking, both fishermen and conservation groups can do better at pointing fingers.
My first thought to this comment was, "Sounds great. But where do we buy ropeless gear, is it reliable, and who's gonna pay for it?" Companies are still developing technology for ropeless gear – I remember seeing only one booth at PME that promotes sustainable fishing gear called Puget Buoys, and they're still testing the product.
So how can fishermen implement this practice when ropeless gear isn't readily available, still testing the kinks? Ropeless gear may be the future, but it'll take time to get there.
(Read an opinion piece from a California crab fisherman/president of the California Coast Crab Association and Maine Lobsterman/president of the Maine Lobstermen's Association here.)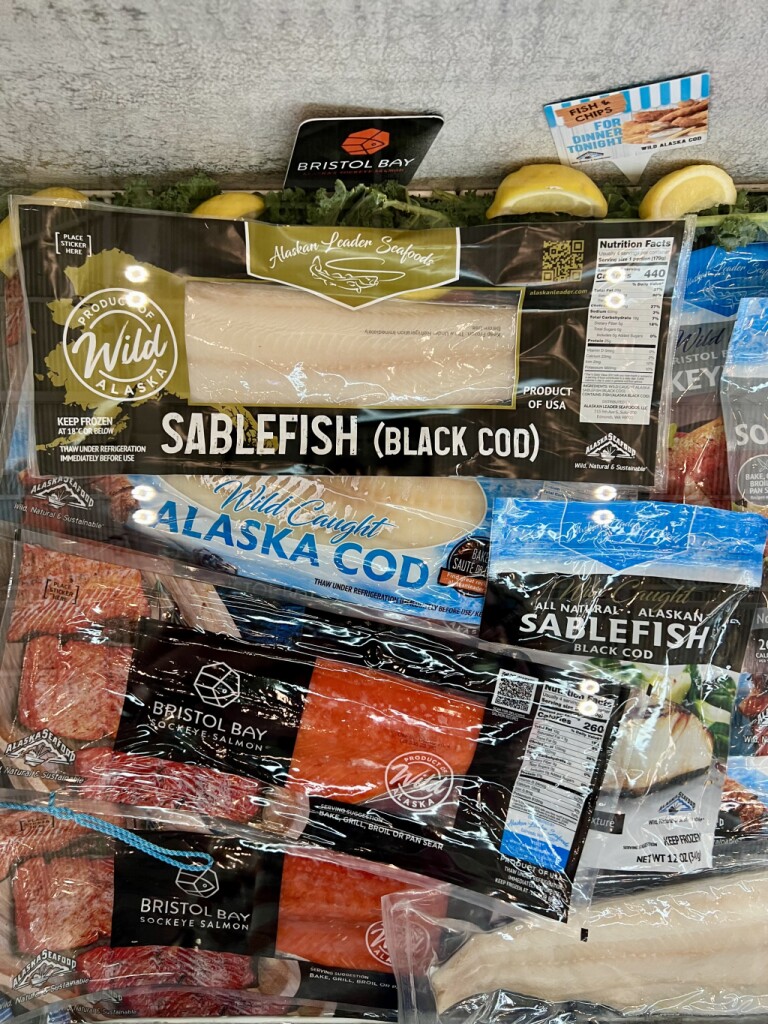 "Aquaculture is the future of commercial fishing, end of story."
This comment broke my heart because it felt like a complete disregard for our culture and the ripple effects of industries and people who rely on our way of life.
And what about the quality of wild-caught seafood?
I tried farmed salmon – gussied up by celebrity chefs at various booths – and it tastes…like farmed salmon. I asked my friend, Trish Whetstone, a seafood educator out of British Columbia, Canada, about this predicament. How can we compare the two when the color, texture, and tastes are worlds apart? She says that she treats farmed salmon like a different type of fish for that reason. There is no comparison.
"It's like the difference between eating wild boar and eating pork loin," Whetstone said. "It might be the same family, but it's definitely not the same experience. You can't expect one to be like the other."
Our conversation made me think of an image on the Ventura County Commercial Fishermen's Association's website: "Save the Fishermen. Protect an Endangered Species."
When explaining that our Partners of Commercial Fishermen community is a support group, the reply was "Cute" and "That's funny."
I wanted to roll up my sleeves, remove my earrings, and grease my face. Them's fightin' words. It's hard enough for women to see their value in the industry, let alone hear others brush aside their selfless hard work like we're playing house.
How "cute" is it for a partner to solo-parent and keep the kids happy, pay the bills, prepare healthy meals, and clean laundry, so commercial fishermen are free to focus solely on harvesting the sea in treacherous weather while trying to stay alive?
How "funny" is it for a partner to pray for safety each season while managing money to stretch a lean year and advocate for fisheries because fishermen are too busy working to do it themselves?
To attend family functions, anniversaries, and holidays alone?
To keep anxiety and overwhelm at bay?
To work in the trap yard and bottom paint the boat because the deckhand quit, and who else is there to do it?
Bottom line: the industry would implode without women, and the mental state of commercial fishermen would be in the toilet without dedicated partners on the homefront.
As my insides burned, a friend reminded me that I am not in the business of convincing people. Ain't nobody got time for that. Instead of lashing out (thank you, therapy!), I sat quietly, listened, and took notes to report back. I'm here for "our people," and I always will be.
I learned that all we can do is the best we can do. To learn from mistakes and keep going. To work the seas and homefront with internal strength and wisdom as generations before but to prioritize mental wellness as the new normal so we can thrive for years to come.
This isn't the end of commercial fishing – we are only as endangered as we allow ourselves to be.
If you're interested in Exhibiting at SENA next year, visit www.seafoodexpo.com/north-america/exhibitor-lists to learn more. Or, contact your state's Department of Agriculture to see if a conference hosting program is already in place (Florida and North Carolina do this. And, I believe, Oregon and Virginia, too.) If I missed anything, please add it in the comments. We'd love to hear from you!